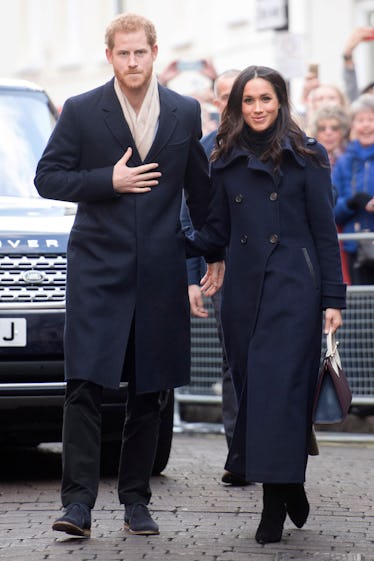 Here Are All The Celebrities You'll Probably See At The Royal Wedding
WPA Pool/Getty Images Entertainment/Getty Images
It feels like just yesterday Prince Harry and Meghan Markle got engaged. It was around Thanksgiving time when the general public learned about the special lady in Harry's life, and here we are six months later and the royal wedding is rapidly approaching. While the U.K. makes preparations for the big day, some celebrities are busy picking out their wedding-going outfits. The royal wedding invite list includes all the usual royal family members, with a few fun celebrity surprises.
According to a statement released by Kensington Palace, 2,640 people are invited. Included on that list are 1,200 members of the public, 200 people from selected charities and organizations, 100 students from two local schools (The Royal School, Great Park, Windsor, and St. George's School, Windsor Castle), 610 Windsor Castle community members, and 530 members of The Royal Households and Crown Estate. And maybe Ed Sheeran... TBD.
The statement explained, "[Meghan and Harry] want their wedding day to be shaped so as to allow members of the public to feel part of the celebrations too. This wedding, like all weddings, will be a moment of fun and joy that will reflect the characters and values of the bride and groom." Presumably, this means a few of their close friends will be there to make sure it's a real party, know what I mean? There's been a lot of speculation over which celebs made the final cut, and the internet is staying pretty mum with the details so far.
Here's a short list of confirmed (and basically confirmed) celebrity royal wedding attendees.
The Cast Of "Suits"
Markle's old squad will be there to rep American TV on behalf of all of us. Access Hollywood confirmed her co-stars Patrick J. Adams, Sarah Rafferty, and Gina Torres will be coming along with about 25 other people from the cast.
A source told Access, "About 25 people from Suits are attending the wedding and they're trying to put together a dinner on the Friday night."
Priyanka Chopra
Maybe not so surprisingly, Chopra and Markle are very close friends. In a recent interview with US Weekly, Chopra confirmed she is attending the wedding but doesn't know what she's going to wear yet. She also took the opportunity to gush over her Markle, saying,
I've known Meghan for three years and I'm so happy the way the world has responded to her because as long as I've known her … she is a relatable young woman of the world today. She's that girl who thinks out of the box. She has always been an activist. She has always had a strong voice. She's an ambitious girl of today. I think the world needs strong role models like Meghan. I think, I hope, Meghan will end up being one of those people.
Stylist Jessica Mulroney
Mulroney is Markle's BFF, a professional stylist, and an Instagram workout fiend. (The Sun reports she also just so happened to pick out Meghan's famous outfit for her and Prince Harry's engagement announcement, too. NBD.)
Some speculate Mulroney may act as maid of honor, though a Buckingham Palace spokesperson told Cosmopolitan, "Ms. Markle will not have a maid of honor." The insider added, "She has a very close-knit group of friends and she did not want to choose one over the other."
K.
Serena Williams
Apparently, Williams and Markle are really good friends, which is news to me.
Williams is busy preparing for the French Open but told Robin Roberts of Good Morning America, "We'll see if I can make it [to the royal wedding.]" Williams also shared her advice to Markle which was, "Enjoy the preparation. Enjoy the planning. It goes by fast."
Probably David And Victoria Beckham
Victoria popped by The Late Late Show with James Corden and seemed to spill some (British) tea. Corden initially asked her if she was designing Markle's wedding dress, which she confidently denied. However, when she was asked if she was invited to the wedding, she kind of stuttered something along the lines of "I don't know."
Corden immediately called her out claiming, "You're totally going! That was the biggest yes I've ever heard in my life," and Victoria didn't really deny it.
See for yourself.
Almost Definitely Elton John
I mean, it'd be freaking weird if he wasn't invited. For one thing, he's Elton Freaking John. For another, he was very good friends with Prince Harry's mother, Princess Diana, and even sang at her funeral in 1997.
On March 29, he joked with BBC Radio 2 he had yet to receive an invitation, but that he lived "rolling distance" away on a hill nearby. Later, a palace insider told Express.co.uk both Elton John and his husband, David Furnish, are invited.
John also canceled two shows in Las Vegas that clashed with the royal wedding weekend dates. So, you do the math.
...AND THE SPICE GIRLS!
After lots of speculation, Us Weekly confirmed all five Spice Girls will make the party, bay-bay!
MORE LIKE "SPICE UP YOUR WEDDING," YA FEEL ME?! What's a British party without the Spice Girls, anyway?
While these lucky folks are busy packing their passports or making travel arrangements, there is one star who is definitely NOT going to the wedding. And that is...
Rihanna: NOT GOING.
Not that she cares. BadGalRiRi doesn't need to go to the royal wedding, thank you very much.
Why? Oh, just because she doesn't know Meghan Markle or Prince Harry, which she happily reminded Access Hollywood during a short interview.
Apparently, Rihanna met Prince Harry once (in passing) during his Caribbean tour in 2016, which made Access Hollywood think she might get a coveted invite. When they asked RiRi if she was going to the wedding, she responded, "Why would you think I'm invited?" Access explained how they knew she met Harry once, prompting Rihanna to say the most hilarious thing next: "OK, you met me. You think you're coming to my wedding?"
I die. Watch.
Of course, this is just the short list of celebrities the media has found out about. I'd die for a photo of a Meeting of The Redheads (aka Prince Harry and Ed Sheeran high-fiving) and I hope Will Smith is there. I don't know why. I just love Will Smith.
If you guys have any more room on that guest list, DM me. I promise I won't make it a big deal.
Check out the entire Gen Why series and other videos on Facebook and the Bustle app across Apple TV, Roku, and Amazon Fire TV.