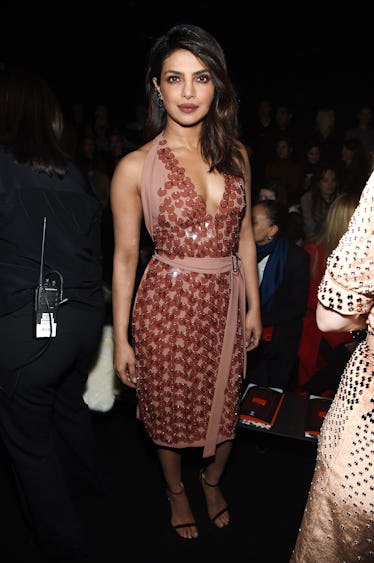 Priyanka Chopra Just Confirmed She'll Be At The Royal Wedding & I'm So Excited
Jamie McCarthy/Getty Images Entertainment/Getty Images
Prince Harry and Meghan Markle are tying the knot in less than a month. And that means the world is getting more and more details about the event such as music choices and even people on the guest list. While the Royals have yet to release an official guest list, there is at least one person confirmed to be attending: Priyanka Chopra. Now, it's no secret that Markle is an actress and that there's a possibility folks from Tinseltown will be invited to attend the festivities. So, it's great to see a fellow actress making her way to the Royal affair. No doubt Priyanka Chopra will attend the Royal wedding in style... she just doesn't know which style she's going for yet.
In a recent interview with Us Weekly, which was published on April 25, Chopra explained that she's not entirely certain what she's going to wear for the big day.
"I sort of may have an idea. But no, I haven't picked one out yet," she said.
Ah, well. At least there's confirmation she's going to be there. And even if she's not exactly sure what to wear, she's definitely sure of one thing: that Meghan Markle is extraordinary and she deserves the utmost respect.
She told Us Weekly that Markle is relatable and most definitely a role model:
I've known Meghan for three years and I'm so happy the way the world has responded to her because as long as I've known her … she is a relatable young woman of the world today. She's that girl who thinks out of the box. She has always been an activist. She has always had a strong voice. She's an ambitious girl of today. I think the world needs strong role models like Meghan. I think, I hope, Meghan will end up being one of those people.
It's so obvious how much Chopra values her friendship with Markle. She takes every opportunity she gets to tell the world how awesome Markle is. She's a true and dedicated friend, for sure!
Also, her sweet comments to Us Weekly aren't a very far cry from the lovely essay Chopra penned for TIME magazine.
In that essay, Chopra waxed poetic about Markle's compassion, down to earth nature, and capacity to break barriers and stereotypes:
With her, what you see is real, and what you get is a relatable young woman with her heart and mind in the right place. Her compassion, evident in the causes she supports, and her drive to break down stereotypes—obvious in her actions—will connect her to a generation in much need of kindness.
The essay was written for TIME's 2018 list of 100 Most Influential People, and Chopra really delivered the goods for her tribute to the Royal-to-be.
But more than anything else, Meghan is an important influencer in a world that needs strong public figures to respect and look up to. People the world can be inspired by. Meghan, standing shoulder to shoulder with Harry, will be a princess for the people.
Chopra's friendship with Markle is honestly so heartwarming and inspirational. They seem to hold each other in very high regard. Plus, it's amazing to see powerful, headstrong women lift each other up. Can't wait to see Chopra be there for Markle on her wedding day!
Prince Harry and Markle are scheduled to marry on May 19 at St. George's Chapel at Windsor Castle. The couple dated for more than a year before announcing their engagement in November 2017. Royal family supporters all over the world are patiently waiting for this fairy tale romance to come full circle. May 19 can't come soon enough!