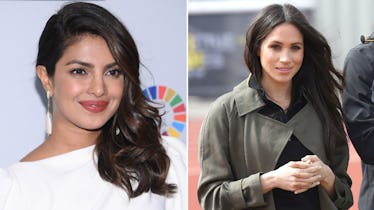 Meghan Markle Is One Of 'Time's Most Influential People & The Essay About Her Is Beautiful
Dimitrios Kambouris/Getty Images Entertainment/Getty Images | Chris Jackson/Getty Images Entertainment/Getty Images
Little by little, Meghan Markle is winning over everyone across the globe. The actress, who's set to marry Prince Harry on May 19, has won over celebrities and commonfolk from all walks of life. Heck, even Priyanka Chopra is enamored with the royal-to-be. She's so impressed with Markle (who is her long-time friend) that she penned a sweet piece for TIME magazine about her. Priyanka Chopra's essay about Meghan Markle accompanies TIME magazine's annual 100 Most Influential People list.
The essay, which is quite poetic and beautifully written, calls readers back to the magic of childhood fairy tales. Of Markle, Chopra writes:
This ever-smiling, strong free spirit found her prince, fell in love and in turn made a cynical world believe in fairy tales again.
This statement is 100 percent true. People love the royals and marvel at the magic of their exciting life events, such as this upcoming marriage or a new baby. But Priyanka's short essay is about more than just the beauty of love; it's also about the strength of Markle's character, how much she cares about the world, and what she'll bring to the table when stepping onto the world stage as Prince Harry's wife.
Chopra also waxed poetic about how much love, kindness, and compassion resides in the heart of this young actress:
Somewhere among biryani, poutine and endless conversations, I realized just how deeply Meghan Markle cares for the world. With her, what you see is real, and what you get is a relatable young woman with her heart and mind in the right place. Her compassion, evident in the causes she supports, and her drive to break down stereotypes—obvious in her actions—will connect her to a generation in much need of kindness.
Essentially, Chopra conveyed what so many other people already see in Markle: a really sweet woman who's more than earned her place beside a loving Prince. It is, indeed, the stuff of fairy tales.
More than that, though, Chopra used her platform in TIME to tell the world that her friend is an extraordinary human who's full potential has yet to be reached. Yes, she may enjoy a successful acting career and she may be marrying a prince, but in Chopra's eyes, Markle has so much more to give:
But more than anything else, Meghan is an important influencer in a world that needs strong public figures to respect and look up to. People the world can be inspired by. Meghan, standing shoulder to shoulder with Harry, will be a princess for the people.
The two friends obviously have great respect for each other and Chopra's words are a testament to that. Chopra has often been vocal about her friendship with Markle, frequently standing up to defend Markle against negative press.
Talk about girl power! Who doesn't love to see women going to bat for each other? That's what true friendship is all about and it's obvious that Chopra is a genuine friend.
The friendship was real from the start. In July 2016, Markle spoke to India West about her friendship with Chopra and how they met:
Priyanka is unbelievable. She has become a really good friend. ELLE Magazine in the U.S. hosted a dinner celebrating Women in TV, and we met that night — turns out that she really likes Suits.
She also said that the friendship took off right away — the two just "clicked":
And you know when you meet someone and you just 'click'... It was just an easy, natural progression. We've managed to keep in touch via email and text, and try to see each other whenever we're both in the same town.
Clearly, the love, respect, and loyalty between these gals is mutual and it's really awesome to seem them lift each other up and be supportive.