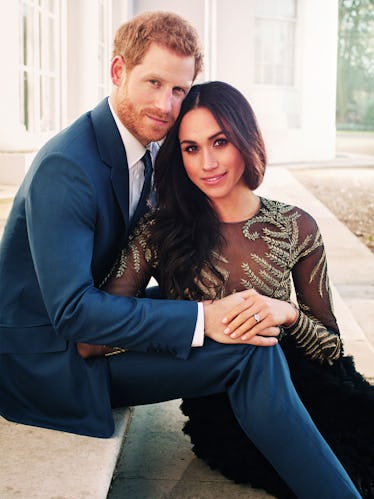 Here's When Prince Harry & Meghan Markle's Wedding Invitations Will Go Out & It's So Soon
Handout/Getty Images Entertainment/Getty Images
Get excited, royal family fans! The royal wedding guest list is reportedly almost done, and Prince Harry and Meghan Markle's wedding invitations are going out soon. According to Us Weekly, the wedding plans are well underway and the royal couple is preparing to send out the invitations as early as "the first week of March." A source close to the family told the outlet that while there was some doubt as to whether Sarah Ferguson (Princess Eugenie's mother) would be invited to the wedding, she definitely will be invited.
If you have no idea why this is even a thing, allow me to explain. Sarah Ferguson is the Duke of York's ex-wife. They had Princess Beatrice and Princess Eugenie before getting divorced in 1996, which means Ferguson is technically no longer a member of the royal family. Prince Harry has always been close with his two cousins, though, so the source told Us Weekly that there was no question in Harry and Meghan's minds that she should be invited. She wasn't invited to Prince William and Kate Middleton's wedding in 2011, however, which is why some were wondering what Harry and Meghan's plans were. The source told the outlet,
Invitations for Harry and Meghan's wedding are expected to go out the first week of March. Despite reports to the contrary, Sarah Ferguson will be receiving one and attending. Harry has always intended to invite Sarah to the wedding. He is very close to Eugenie and Beatrice and their mother is just as much family as their father. Harry and Meghan have total control over who goes to the wedding and there was never an issue at the Palace about Sarah being invited. No push back from anyone.
Lots of people are wondering if the Obamas or the Trumps will be invited, since clearly it's either one or the other. Personally, I'm dying to see Michelle Obama in a fascinator hat, so we know who gets my vote!
The Duke of York (Eugenie's father, Prince Andrew) released a statement announcing the engagement on Jan. 22, 2018. It said,
The Duke and Duchess of York are delighted to announce the engagement of Princess Eugenie to Mr. Jack Brooksbank. Her Royal Highness and Mr. Brooksbank became engaged in Nicaragua earlier this month. The wedding will take place in the Autumn of 2018 at St. George's Chapel in Windsor, with further details to be announced in due course.
Even though Prince Andrew and Sarah Ferguson have been divorced since 1996, Ferguson still holds the title of the Duchess of York and they still live together, according to The Sun. So... was this really a divorce? Ferguson said in interviews following Prince William and Kate Middleton's wedding that she was hurt she wasn't invited, so she went on a vacation. Girl, same. She said in a 2011 interview on The Oprah Winfrey Show (#throwback), "I was not invited. I chose to go and be in Thailand in a place called Camelia . . . the jungle embraced me." She reportedly wasn't invited to Will and Kate's wedding because she tried to sell royal family information to a journalist and it created a big scandal around her. Yikes. Ferguson has been both included and excluded from royal family events over the years, but it looks like Prince Harry and Meghan Markle are welcoming her with open arms!
So what else do we know about Prince Harry and Meghan Markle's wedding?
For starters, Markle is planning on making a speech at the wedding instead of leaving that to the father of the bride, best man/maid of honor, or groom like tradition usually warrants. Girl, yes! This is your day! Make all the damn speeches you want! She's also planning on having her mother walk her down the aisle because they have such a close bond and f*ck gender norms. All about this too, girl. Can I snag an invite?! Actually, never mind. Don't tell me if I'm getting one. I want to be surprised come March.