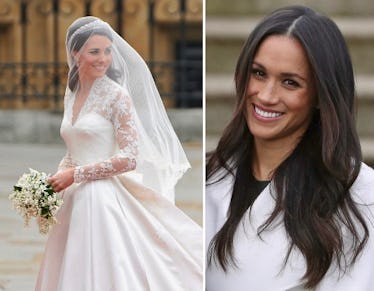 Meghan Markle Has Strict Royal Wedding Style Rules To Follow & I Bet You Can't Guess 'Em All
Pascal Le Segretain/Staff/Getty/Daniel Leal-Olivas/Contributor/Getty
Prince Harry and Meghan Markle announced their historical engagement on Nov. 27, 2017, and what's only been six months of wedding anticipation feels like years. The day (May 19, 2018) is almost here and I simply can't wait any longer to see what Meghan Markle's wedding dress will look like. Alas, I've got five more days to go, but I bet it'll be worth the wait.
An unmarried gal myself, the only things I know about picking out a wedding dress are what I've seen on TLC's Say Yes To The Dress, meaning drama from the brides' entourages, budget struggles, and lots of ladies hamming it up for the camera. Though I wasn't able to personally attend Markle's dress fitting (scheduling issues), I can assure you that it didn't include any such antics. Markle has the British Empire at her fingertips and, theoretically, can have a dress made from 18k welsh gold if she wanted to — as long as the queen approves.
That's right, Queen Elizabeth, Markle's soon-to-be grandmother-in-law, must approve of the gown. But that's not all. Just as Kate Middleton and Princess Diana did, Markle has a long list of guidelines that she must follow on her big day if she's to be accepted by her royal in-laws. No pressure, though.
1. The Royal Wedding Dress Should Bear Lace
Middleton's wedding dress, designed by Sarah Burton for Alexander McQueen, had lace sleeves as well as a lace trim on the veil. The skirt on Middleton's gown was lace-free which gave it a modern edge, but the lace-heavy top ensured that the traditional fabric would be heavily photographed.
2. Henceforth, no cleavage shall be shown
Middleton's gown was decidedly low-cut for such a high-class occasion, but you'll notice there's technically no cleavage in sight. I spy a little bit of cleavage behind the bride on Pippa Middleton, but let the woman live a little.
3. Thy shoulders shall not be seen
Pippa seemed to have learned her cleavage lesson after her sister's wedding, as her own gown included a mock turtleneck, she also followed the royal rule (though not actually a royal herself) of covering her shoulders. And look at all that lace!
4. One dress be but not enough
It's unclear if this is a hard and fast rule, or simply a tradition due to the fact that the second gown is often made to be more comfortable than the first. Middleton's second dress was remarkably less photographed than her famous first ensemble, but looked ten times more comfortable (fuzzy sweater alert!). Markle will reportedly wear a second dress for the reception, as well, so she can celebrate sans corset.
5. A Tiara To Top It All Off
While not a strict rule, wearing a tiara is a popular decision among royal brides. While Markle has no jewelry of her own (yet), she is allowed, nay, encouraged, to borrow from the queen's vault for her trip down the aisle.
6. Queen Elizabeth gets the final say
If you've watched Netflix's The Crown (and if you haven't, you should), then you know that the queen is the boss. No matter Markle's personal taste, no matter the other rules that she has to follow, the most important rule of them all is that the queen must approve of the wedding dress. No approval from the crown, no dress.
Markle's first wedding dress look had zero lace, was strapless (i.e. shoulder-baring and cleaving-inducing), involved no tiara, and only featured one dress of which I'm sure the queen wouldn't approve. Markle's first wedding was on the beach and looked like an epic party, but for all intents and purposes, that was a past life. Markle's wedding to Prince Harry will be next level fancy and proper, with a dress to match — as long as it follows all of the rules.