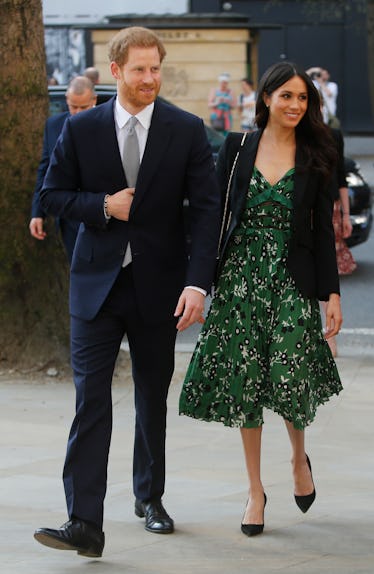 Prince Harry & Meghan Markle Won't Go On Their Honeymoon Right Away & Here's Why
WPA Pool/Getty Images Entertainment/Getty Images
The royal wedding is quickly approaching (May 19, circle that date on your calendar STAT), and many are getting ready to watch Meghan Markle walk down the aisle to her literal Prince Charming (AKA Prince Harry). Of course, there will be a beautiful ceremony and breathtaking reception that will surely be filled with dinner and dancing, but what about the next most important thing that happens after a wedding? (Get your mind out of the gutter here, people, this is royalty we're talking about.) A HONEYMOON, of course! But before you start dreaming of straw hats and speedos, just know that Meghan and Harry's honeymoon won't be right after the wedding. A bummer, I know, but it turns out that they're *pretty* important people who have to do a few things before they can live that #honeymoonlife.
According to royal expert Omid Scobie, Meghan and Harry have a few things they need to do before they're whisked away on their honeymoon. On May 4, Scobie took to Twitter to explain the delay.
The couple won't immediately go on honeymoon. Instead they'll attend an engagement the week after the wedding and then go away. Work is clearly a huge focus for the couple and the second half of their year "is going to be incredibly busy." Can't wait!
Only the royal couple would hold off on their honeymoon to "attend an engagement" right after their wedding. I mean, I know the two are incredibly busy, but take a minute for yourselves, you guys! Soak in that newlywed bliss!
So, where are the two planning on going after their post-wedding engagement? According to Travel + Leisure, Harry and Meghan have decided to chose Namibia "as the country where they will spend their first vacation together as husband and wife." A stellar choice, considering it's one of the least-populated countries in the world, "making it one of the few places in the world where privacy is essentially guaranteed."
But where will they be traveling to attend the engagement after their wedding? Will they stay local, or is it somewhere they have to travel? According to the Daily Mail, it looks like Meghan and Harry might be heading to Dublin just a few weeks after their wedding — making it their first trip abroad as husband and wife. A source told the Irish Independent that the couple may have a "series of engagements" at the Irish capital, and that "it will possibly be the first foreign trip after their wedding."
Luck of the Irish, I tell ya.
And, while the idea of honeymooning in Namibia looks pretty likely for Meghan and Harry, some report that they might actually take a trip to Botswana instead, as the couple have some significant ties to that particular location. I mean, Harry took Meghan to Botswana on their third date AND he proposed to Meghan with a diamond that was sourced from the country, so I guess we can't exactly rule it out just yet.
I'd be seriously happy if I was taken to either (just not at my expense, because I have absolutely no funding for that).
LOL. But seriously, I'm accepting monetary donations if you have some extra cash to spare.
I do love the royal couple in so many ways — especially because they're not afraid to break royal tradition. My most recent favorite is a report that Prince Harry will wear a wedding ring after he marries Meghan Markle, according to Metro.
So ladies, find you a man who is willing to break tradition, proudly show off your marriage, and take you on your dream honeymoon. It looks like Prince Harry is checking off all of the boxes for Meghan, and I couldn't be happier for her.