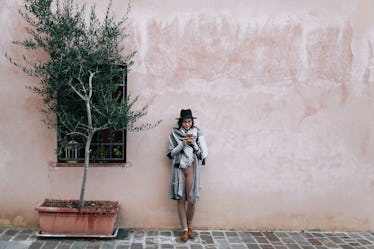 7 New Year's Resolutions For Dating Apps To Help You Get Exactly What You Want In 2019
2018 is almost canceled which means it's time to look ahead to the new year and sort out your #goals for the next 365 days. If you've been feeling discouraged about the world of dating and want to step up your game next year, it might be a good idea to set some 2019 New Year's resolutions for dating apps.
Cuffing season ends in March, but you've got a whole year ahead of you to take the reigns on your dating life. Maybe you want a bae to call your own, or maybe you're just looking for a breezy fling or your next hookup. Dating apps can sync you up with all kinds of amazing people as long as you know how to look for them. You can set goals and resolve to better yourself any day of the year, of course, but January 1 is the perfect opportunity to take a dive with online dating.
Have you been feeling a little salty about how your dating life has gone over the past year? Consider these seven New Year's resolutions to help you get what you want in the coming year. These resolutions go in order, so consider this your 2019 dating app cheat sheet.