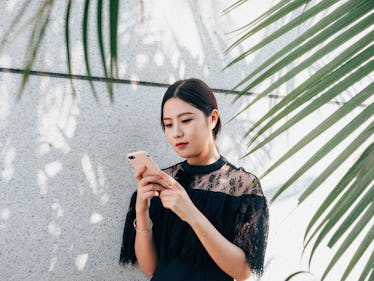 If You Finally Match With Your High School Crush Over The Holidays, Use These 5 Opening Lines
One of the best (and arguably worst) things about online dating is that you never really know who you're gonna bump into on an app. You might be swiping along and suddenly see your ex, your best friend, a co-worker, or someone completely unexpected like the hunk you had heart eyes for in high school. Eeeek! You're suddenly sweating and don't know what to say. In fact, you probably never even considered that one day, you'd need to think of opening lines to send to your high school crush on Tinder.
Well, here you are. Your heart starts pounding like it did when you used to pass this dreamboat in the hallways at school. So now what? What should you do if you're swiping through Tinder and you see your OG crush? First of all, you'll need to decide whether to swipe right or left. That's the thing about Tinder, isn't it? You'll never know if someone swipes right on you unless you take that plunge too. If you decide to go for it, and lo and behold, It's a match, what's next? I recommend keeping your cool, and taking things a step further than jotting down his or her name all over your spiral notebook.
That's why I've compiled the best five opening lines to send your high school crush when you finally match on Tinder. Keep these on hand and bust them out the next time you're at a loss for words on a dating app.