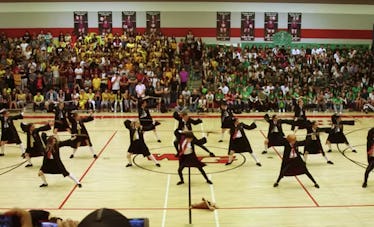 You Need To See This High School's 'Harry Potter' Pep Rally, Because I Am Shook
I used to love going to pep rallies when I was a teenager. They gave me an excuse to take a break from class, see my friends, and scream really loudly in the name of school spirit. However, I've never been to a celebration like this Harry Potter pep rally at an Arizona high school. The event that took place at Walden Grove High in Sahuarita, Arizona, was truly magical, because the PAC Dance Team delivered a Harry Potter-themed performance for their classmates. Unsurprisingly, the video of their dance went viral — and it'll leave you shook.
I'm not kidding. I just finished watching it, and I'm still in awe. If you haven't gotten a chance to see the routine yet, take a seat and prepare yourself. The video posted to the ThePac Walden Grove YouTube channel on Sept. 29 is six minutes long, but you'll probably need a few extra minutes when it's over to truly process what you just saw. Between classic Harry Potter monologues and current hit songs, the PAC Dance Team nailed every aspect of the performance. Heck, they even incorporated wands, broomsticks, and Voldemort into the dance. (TBH, I was genuinely afraid when Voldemort and his team started dancing — but I'll let you experience the scary-good performance for yourself.)
Take a look at the PAC Dance Team's Harry Potter performance in the video below:
Deep breaths; I told you that you'd need some extra time to process the entire routine.
HOW COOL WAS THAT, THOUGH?!
All I have to say is that Walden Grove High is on another level when it comes to its dance team. TBH, I don't even think Hogwarts would've been able to pull off a pep rally like that. But if Harry Potter was sitting in the stands, I think he would've been proud.
Apparently, Twitter is just as impressed with the high school's performance as I am. After the video went viral (and accumulated more than 2 million views), more and more folks started talking about it online. Needless to say, the entire internet is overwhelmed by the magical routine.
Some people are even pointing the video to J.K. Rowling's direction on Twitter.
Real talk: I hope J.K. Rowling does see the high school's Harry Potter-inspired dance routine. I think she'd be proud.
This isn't the only epic performance that the PAC Dance Team has delivered. In fact, the team has already gone viral in the past for even more jaw-dropping performances. For instance, the group performed this now-viral Pixar routine in 2016, which currently has 3 million views on YouTube. One of their latest dancing endeavors even landed them on America's Got Talent. They performed an impressive Alice in Wonderland dance for the judges, and made it through to the live shows (yay!).
You can check out the team's America's Got Talent dance below:
On Aug. 1 — after they made it through — a proud member of the PAC Dance Team wrote a Facebook post about the achievement. It said,
We can't believe we are going to be on the LIVE SHOWS! We feel so lucky to continue to share our story and passion on the biggest stage in America!! How did this happen?! Thank you AGT for making this small high school dance teams dreams come true!
As you can see, the PAC Dance Team is the real deal. Their Harry Potter-themed routine isn't the only impressive performance in their repertoire (but it is my favorite). Way to go, everyone.