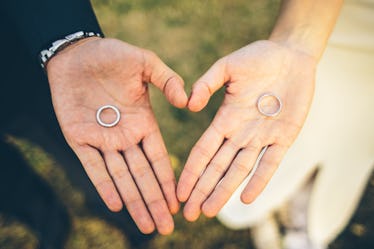 6 Alternative Ways To Wear Your Wedding Band If You Hate Rings
If you've never liked wearing rings, knowing some alternative ways to wear your wedding band can really come in, well, handy. After falling in love and tying the knot, the last thing you want to worry about is what the heck to do with your wedding band. Though some people may love to wear their band around their finger, there are plenty of ways to rock your post-nuptial bling that don't include wearing a ring.
When it comes to all aspects of weddings, you get to do what feels right for you. If you're not super into rings, it's totally OK to nix the tradition. Maybe you and your boo would rather spend the money on a trip around the world or put a down payment on a house. Maybe you want to have a ring but don't like to wear it. Whatever the case, you get the final say in who you marry and how you marry them. From no rings to "7 rings" to a sour cherry Ring Pop (lots of pop culture references there, wow), there is no one way to rock your wedding bling.
And if you hate wearing rings, here are six different ways to rock your wedding band.