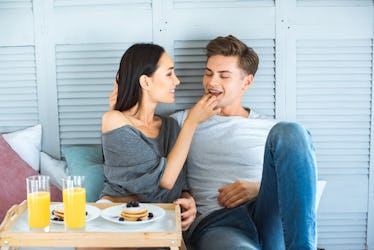 6 Simple Things You Can Do To Spoil Your SO, 'Cause They Deserve It
Shutterstock
Healthy, happy relationships all have this one thing in common: Both partners feel appreciated by each other. There are many ways to express your appreciation for bae, either by verbalizing it with words or showing it through your actions. And better yet, some of the most effective things you can do to spoil your partner won't drain your bank account. You don't need to wait for your anniversary, Valentine's Day or their birthday to spoil them shamelessly, either. Sometimes, showing them a little TLC on a regular ol' Tuesday is even more meaningful.
The word "spoil" inherently implies overindulging someone with lavish gifts and grand gestures. But the truth is, there are so many budget-friendly ways to make your boo feel loved and cared for. The best way to figure out how to spoil them is to first consider their love language. Knowing how your partner experiences love will ensure that your particular gesture is well received. For example, if your SO's love language is quality time, then setting aside time on your work break to enjoy a long lunch with them will likely go a lot further than buying them something. Or, if their love language is acts of service, then packing them lunch during a stressful week could go a long way.
Remember: The point is to do something that speaks to your partner's specific preferences and personality. Strapped for ideas? Here's a handful of sweet, yet oh-so-simple ways to spoil them shamelessly.