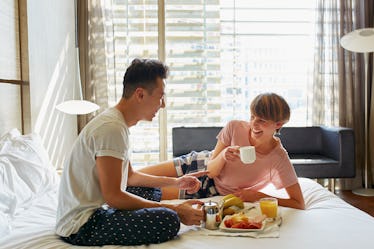 9 Women Reveal How Their SOs Make Them Feel Special & I'm Already Crying
Being in a relationship can be pretty awesome. From feeling emotionally and physically connected to your boo to always having someone to text or eat late-night snacks with — relationships can make life feel super fulfilling. Of course, no matter how amazing your relationship feels — sometimes dating takes a little extra effort. No matter how long you've been seeing your boo — it's natural to wonder, how does your partner make you feel special?
Understanding the ways you and your boo make each other feel most cared for can help you both to feel closer to each other. If you like to be asked about your day or you really feel loved when your boo takes the initiative on a house project — there are many ways your boo may make you feel cared for.
And whether your partner is an amazing cook or they're always planning the next romantic trip for you both to take — knowing what makes you feel special in your relationship can be a great way to feel connected to your partner.
Elite Daily asked nine women what their partner does to make them feel special, and what they said is so cute that I'm crying.