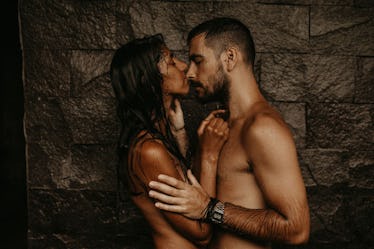 5 Ways To Show Your Love After Getting Through A Fight With Your SO, Because It's Not Easy
If you are or ever have been in a relationship, you're probably familiar with what it's like to fight with your partner. It sucks, because you love and care for them so much, but sometimes a fight just needs to happen so the two of you can learn and grow. Nevertheless, after a fight, you might be struggling to find ways to recover and get back to normal. Fortunately, there are several ways to show your love after a fight that can help you and your partner get back on track.
It's not always easy to move on after a fight, and perhaps one partner might need more time than the other. For example, I grew up with all sisters, and we fought all the time. My fiancé, on the other hand, grew up with just one brother and they never really fought with their words. So, it's always pretty easy for me to move on after a fight because I'm used to it, but my fiancé usually needs more time since he doesn't handle conflict in the same way.
"One or both partners might ruminate over the fight: what was said, what still needs to be said, reviewing why they are justified and right," Anita A. Chlipala, dating and relationships expert and licensed marriage and family therapist, tells Elite Daily. "This makes it more difficult to empathize with your partner's perspective and either manage or solve the problem. Some people have a difficult time letting go while others are able to move on quickly."
But, no matter what, Chlipala says there are ways to help each other move forward after a fight. Here's how.