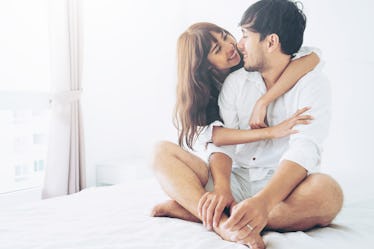 We Asked Experts If You Can Have A Healthy Relationship Without Sex
Shutterstock
It was a quiet morning in Brooklyn. My friend Lilly* and I were taking a power walk along the sun-drenched sidewalks. As usual, we were discussing sex.
"Well, Thomas* just doesn't think sex is important in relationships," Lilly said. Thomas, Lilly's boyfriend, has always been less sexual than Lilly. Ever since I met her in college, I'd admired her sexual prowess and empowerment. It's one of the reasons we're friends.
At the utterance of this polarizing statement, I stopped dead in my tracks. "What do you mean he thinks sex isn't important? Sex is SO important."
"I know," she offered sheepishly. "He just doesn't have the sex drive I do, and when I want to have sex and he doesn't, all he does is say that I'm the one with the problem because I want it so much. He doesn't get why I can't be happy just cuddling and being intimate in other ways."
I really couldn't believe what I was hearing. How is this an argument that someone would use: Sex just isn't that important? Are you f*cking kidding me?
I've spent the entirety of my career promoting healthy representations of sex and sexuality. I am friends with some of the most interesting, sexually liberated women in all of New York. And yet here was one whose boyfriend was trying to shame her for her sex drive.
It felt a little like a betrayal. But then, something hit me. In all of my comprehensive rhetoric, designed to remove the stigmas surrounding sexuality and promoting its healthy consumption and practice, I realized I had never once just written a real article about the importance of sex in healthy relationships. I had never laid out its defining role and importance within intimate relationships.
So, how important is sex in healthy relationships? I recruited the help of some of my favorite Marriage And Family Therapists who specialize in Sex Therapy: Emmalee Bierly, MFT, Jennifer Chaiken, MFT, and Caitlyn Caracciolo, MFT the owners of The West Chester Therapy Group.
When it comes to sex, there is no such thing as "normal."
Despite what the media will tell you, there is no "normal" amount of sex you should be having. Research has shown that happy couples have sex about once a week, which does away with old three-times-a-week standard.
But really, what this research shows is that there is no way to put a number on normal sex drives. Every couple is different. One person's every day slay is another person's every other week.
We're all different. We should probably stop judging each other and instead focus on what makes us happy.
It's also important to note that couples don't just have sex for the goal of reaching orgasm. Chaiken says,
There are so many reasons why couples have sex that are not just about physical pleasure. Often couples derive an emotional closeness during sex that may be just as important as physical pleasure.
I've found this to be true in my own relationships. Sex is where I find closeness with my partner that cannot be achieved simply by romantic touching. I want to be as close as I possibly can be to the person I love, and this is attained through sex.
Chaiken tells us that there is no wrong way to experience sex. There are countless ways to have the closeness and intimacy that sexuality provides, whether it is co-masturbation, oral sex or other options.
The importance of sex can change and fluctuate over time.
Within relationships, the importance of sex will change and take on new levels of significance over time and in different stages of your life.
According to Caracciolo:
The most important thing is to continue to explore where sex fits into the picture for you -- which can differ over time within the same relationship and with each relationship that you have.
Caracciolo points out that are countless reasons that sex holds such weight in relationships. It can bring you closer, heal emotional wounds through intimacy, help us explore different power dynamics and foster attachment bonds. Sex is not just about physical pleasure, but emotional wellness, too.
Caracciolo says,
Get curious about why sex could be important to you -- even if you don't feel like it is. Everyone owes it to oneself to explore this.
The critical thing is to keep listening and learning to from each other.
Two people will always have different sex drives.
Both Bierly and I believe that sex has little weight until you're NOT having it anymore.
Sex is like water. When you're getting that sweet D everyday, you forget how important it is to you. You take it for a granted a little bit. It becomes a constant in your everyday routine. But when your sex life becomes the Sahara f*cking Desert, you begin to realize that not having it is like life or death.
Bierly informs us that issues arise when a person with a high sex drive winds up in a relationship with someone who has a low sex drive. This sounds like your worst nightmare, right? Well, don't flip your lid yet, it's not a deal breaker.
There are ways around these differing sexual appetites, and the key is COMMUNICATION! As long as both parties in the relationship are willing to meet in the middle, they can make it work.
Bierly says that it's all about give and take. She says,
For example: They agree to have vaginal sex once a week, oral sex once a week, engage in mutual masturbation (partner masturbation next to one another a la Jessa and Adam on girls) and then the higher desire partner masturbates onto the lower desire partner once a week, and both partners feel content and heard with all of their needs met.
It's crucial to remember that this is about YOUR happiness and satisfaction in YOUR relationship. It doesn't matter how much sex other people are having or how many blowjobs your BFF is giving, it's about what satisfies you. As long as you're happy, that is what counts.
Rejection sucks.
In my own relationships, I've found that I get turned down for a sex a lot. I am a sexual creature with a sex drive bordering on OUT OF CONTROL. I gotta get that dick, you guys.
I am confident AF. I'm a goddamn sex writer on the Internet; a thin skin does not go with this territory. But that doesn't mean rejection doesn't BLOW.
According to Chaiken,
Because rejection can be such a painful experience, it is important for both partners to work on discussing the emotions attached to their sexual relationship so that they can repair the possible 'break' in their attachment bond.
And this is what I've sought to do. If I'm with a man who doesn't want to meet me halfway, that is a big red flag. If he won't compromise to make me happy, why the f*ck am I dating him?
Bierly adds,
If either the quantity or quality of your sex life isn't up to your standards or desires and that alone takes away from all the positives in the relationship then yes absolutely that is a good enough reason to end a relationship.
Relationships are a two-way street. You have to make concessions. Women, you are not obligated to compromise yourself to keep your man. There are a lot of men out there, I promise. If he's not doing it for you and isn't even willing to try, then: BYE, FELIPE.
You shouldn't feel guilty about asking for what you want.
Women have historically been dubbed the "less sexual partner" in relationships. As I've tried to communicate with countless articles, this is total and complete bullsh*t.
Sex drive varies from person to person and has nothing to do with gender. So, stop buying into the social ideas of female expression and say F*CK THAT to the patriarchal rhetoric that has been hardwired into our brains from birth. Ladies, we have to REFUSE be scrutinized for speaking up for our sexual desires. Don't let a guy make you feel bad for having a high sex drive like Thomas is doing to Lilly.
He's clearly taking out his own insecurities out on her and that is super-gross. Get it together, Thomas.
So, say it loud and say it proud: F*CK YOU, PATRIARCHY! I AM A SEXUAL BEING AND I WILL NOT BE ASHAMED.
*Name has been changed.
Be sure to sign up for Gigi's newsletter for the latest in love and sex.