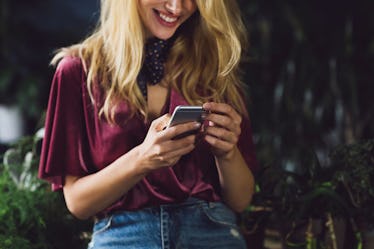 5 Texts To Send Your Partner When You Miss Them & Need Some TLC
Is there anything that can ease the agony of missing your boo quite like a well-timed text? When you're feeling far away, a sweet message can do wonders for making you feel closer. It doesn't matter if you've been apart for two days or two months — it takes very little time to craft some cute texts to send your partner, but they could have a big impact on your bond. Plus, it's a win-win: You'll give your partner the sweet satisfaction of knowing that you're thinking about them, and you may very well find that the feeling is mutual.
Research supports the idea that it's well worth it, too. Sending and receiving text messages can actually improve someone's mood when they're feeling sad, lonely, or stressed, according to a 2012 study conducted by psychologists at the University of California at Berkeley. Another 2015 study found that people who sent loving, kind, or funny texts to their partners experienced a boost in relationship satisfaction. In case you needed more inspiration to start typing — texting to express affection can create a stronger partner attachment — and remarkably, sending a loving text correlates even more highly to relationship satisfaction than receiving one, according to 2013 research published in the Journal of Couple & Relationship Therapy.
Not sure what to say? There are plenty of creative ways to let your SO know that they're on your mind without simply resorting to those three little words, "I miss you." Here are five ideas to get you started (and get your partner smiling for sure).
This article was originally published on