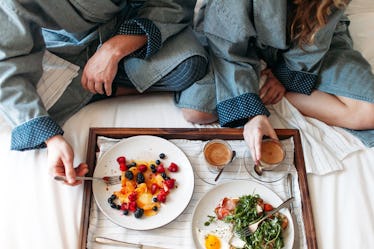 If Your Love Language Is Acts Of Service, You'll Love These 4 Date Ideas
It goes without saying that knowing your love language can come in handy in terms of getting your needs met and feeling appreciated in your relationship. But did you know that this knowledge can also be useful in taking your dates from "meh" to mind-blowing? There are plenty of date ideas if your love language is acts of service that you and bae are both bound to enjoy.
If your language is acts of service, you probably know that you feel most loved when your partner is helping you out, whether that means taking care of those dishes you were dreading doing, or bringing you lunch when you're swamped at the office. Case in point: One of my best friends, Kristen, was having a super stressful week at work. She felt overtired, underfed, and had little time to spend with her boo. Knowing that she was overwhelmed, her partner ordered a laundry delivery service to pick up a couple loads and then drop it off the next night. Now, to some people, this might seem like a kind gesture that warrants a simple thanks. But to Kristen, that act of service was the romantic thing in the world.
So if you're looking to incorporate your love language into your next date, you'll need to put some thought into what you really need right now. Need a little inspiration? Here are a few ideas to get you started.