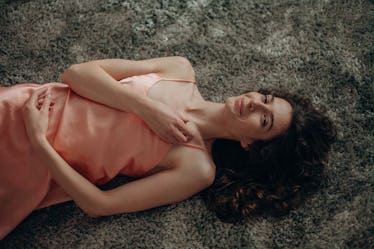 6 Hot Pictures That'll Light Your Partner's Candles If You're Apart On Their Birthday
So, bae's birthday is coming up. Usually this is really exciting! Who doesn't love celebrating their partner? But if for whatever reason you can't be together this year, and you still want to make sure they're extra ~happy~ on their birthday, worry not. There are some ways to make that distance a little easier, and sending pictures is just one of them. These pictures to send your partner if you're apart on their birthday will have them catching the next flight to you in no time.
Even if you and your partner have been in a long-distance relationship for years now, and you're used to not always being together on special days, it can still be kind of a bummer. Sending bae any of these pictures on their birthday can be a nice little reminder of what they have waiting for them when they come home — whether that be next week or next month. So, as a way of making it easier for you and your partner to cope with being apart on their birthday, consider sending them one of these pictures. It can be a sweet, yet scandalous way of saying, "Happy birthday, my love. I miss you."