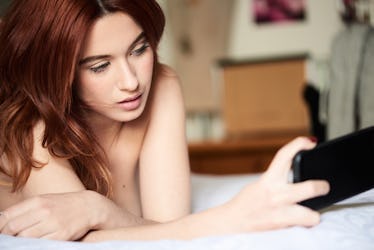 6 Hot Pictures To Send Your Partner If You Want To Have Sex Tonight
They say a picture is worth a thousand words, but sometimes you just want a photo to say two: "Do me." Yep, I'm talking about pictures to send if you want to have sex that are so hot, you'll have your partner rushing home to give you some of that sweet lovin' you crave.
So, what kind of sexy pic should you send? Do you just go with the basic bare minimum (literally)? It's definitely an option. Chances are, just sending a standard naked pic will get the job done. I mean, you're gorgeous, so of course they want to see all of that. But this is a chance to up your sexy game to the next level and really drive your partner wild with anticipation, so that you get exactly what you want tonight.
So before you just snap, spend a few moments thinking about what you want to send. Consider what they'd like to see, but, more importantly, what will make you feel your most sexy. Because nothing is more hot, alluring, and powerful than a woman who is really feeling herself. That confidence will shine through the photo and bring anyone lucky enough to receive the message to their knees. Still need a little extra inspiration to help get those creative juices flowing? Here are six sultry ideas for photos that are guaranteed to get you laid tonight.