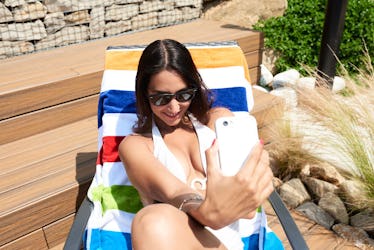 4 Hot Pictures To Send Before The Third Date To Get Them Ready For Some Action
Let's be real, sending sexy pics to someone new can be pretty nerve-wracking — especially prior to the third date, because we all know what's probably going to go down *wink wink*. Some might say knowing exactly which hot pictures to send before the third date is an art, and we've likely all heard the sexting mantra, "don't send pics of anything they haven't seen in real life." Honestly, I couldn't agree more. Don't get me wrong, there is absolutely nothing wrong with sending scandalous pics to someone you intend on seducing. But, holding off on anything too incriminating or intense early on is almost always a good precaution. If you're wondering how much is too much, I would say keeping it PG-13 is a good place to start.
Plus, it's good to keep the really juicy visuals in your back pocket to help the sexual tension stay at maximum level if the relationship continues. Even if you have no intention of getting intimate on your third date, which is obviously completely your decision, testing the flirtatious waters can still be a fun way to keep the connection going between dates. So, without further ado, here are four hot pictures to send to someone new before you've officially hooked up.