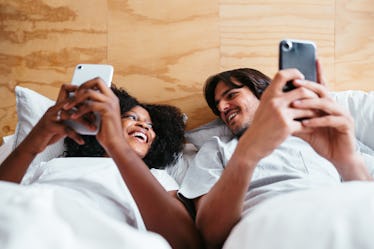 6 Hot Pictures To Send Your Partner On Your First Anniversary That Will Stand The Test Of Time
Far from awkward first dates or that "Should I text them?" stress, once you've dated your boo for an entire year, you've probably grown pretty close. While you may be super comfortable with your partner and super in tune with what they're into, it's natural to want to brainstorm some hot pictures to send your partner on your first anniversary. Whether you can't be together on the actual day, or you want to start the celebration early with some sext texting, sending your boo a hot pic the morning of your first anniversary (or really anytime ever) can be a sexy surprise way to show your boo you're thinking of them.
Of course, no matter how long you've been dating, it's important to talk IRL about sexting before diving on in. You don't want to push any boundaries or limits with your partner, and you'll want to make sure everyone is on the same page about the responsibility that comes with sexting before sending off your sexy snaps. But if you've talked the talk and you're feeling ready for a photoshoot, sending a sexy picture can be the perfect present.
Here are six hot picture ideas to send your partner for your first anniversary.