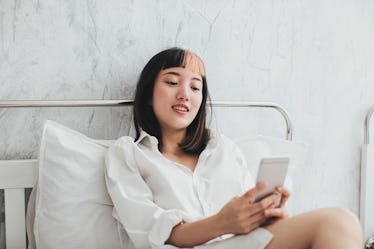 How To Talk To Your Partner About Sexting, Because It Can Get Real Awkward, Real Quick
There's a big difference between sexting and getting unwanted racy pictures. One can be hot and sexy, and the other is gross and may make you feel uncomfortable or unsafe. The difference is consent. Both people on either end of the digital line are willing and active participants, and that's amazing! Sexting may seem like NBD, but it's still technically a sexual act, so your partner's (and your) feelings should be treated with the same level of respect and consideration as any other. This means you need to (gasp!) communicate! So, knowing how to talk to your partner about sexting is really important.
There could be a scenario where you finding sexting really hot, but you're not sure where your SO stands on the subject. Maybe your partner has been dropping some not-so-subtle hints that they want you to send them nudes, or maybe they're sliding d-pics into your DMs and you're just not into that. Whatever the situation, you'll want to know how to broach the subject with bae without things getting too awkward. To help with that, I reached out to Jessica O'Reilly, sexologist and relationship expert, PhD, and host of the @SexWithDrJess podcast for her advice on how to tackle the topic of sexting with your partner. Here's what she had to say.