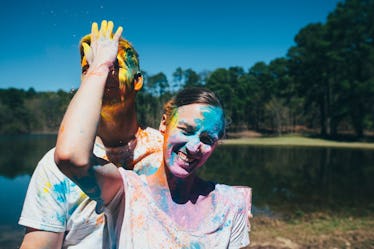 6 Creative First Anniversary Date Ideas Will Be Totally Unforgettable
When it comes time to celebrate your first anniversary with your significant other, there's a potential to feel overwhelmed. Since you've never celebrated an anniversary before, there might be a sense of pressure to get it perfectly right. The thing is, though, you don't have to get it perfect! The beauty of the first anniversary is that you get to start new traditions together as a couple. This is really exciting when you think about it. So if your first anniversary is coming and you're not sure what to do, here are some creative first anniversary date ideas to consider.
The thing about planning something sweet and celebratory of your relationship is that there seems to be pressure to spend a ton of money, surprise your partner, and get them the perfect gift or experience. You definitely don't have to do any of these things, if your heart is in the place of celebrating this person you can do that in so many different, lovely, ways. When it comes to these pressures, it's a great idea to talk to your partner about what they want to do for your special day. You should also have a sense of suggestions for them about what you're hoping to do. Surprises can often lead to miscommunication and disappointment if you don't at least talk about expectations a little bit. So if you're set on a surprise, you can still talk about your anniversary plans with bae without giving everything away. This is a great time to ask if your partner hates things like being sung to in a crowded restaurant or if big public displays of affection stress your partner out. If so, then you'll know not to have the mariachi band serenade bae during dessert.
Your anniversary is likely to be a memorable time no matter what you do because you're celebrating a whole year together with someone important to you. For more ideas, check out the following!