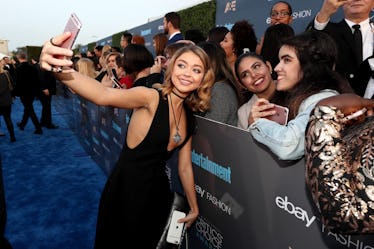 5 Times Sarah Hyland & Wells Adams Proved They Were Couple Goals
Christopher Polk/Getty Images Entertainment/Getty Images
Some celebrities keep their new romances on the down-low — we're looking at you, Kourtney Kardashian! — while others happily flaunt their feels all over social media. And though a certain Modern Family star and her Bachelorette alum BF have only been dating a few short months, they definitely fall into the latter category — and we couldn't be more into it! Sarah Hyland and Wells Adams are couple goals for real you guys, and if you're not yet following both of them on Instagram, then what the hell are you waiting for?
With apologies to Kristen Bell and Dax Shepard — sorry, but close second, guys! — I don't think there's a couple that's cuter, funnier, and more endearingly dorky than these two, and here are five recent posts to prove it.
Last Sunday, Hyland and Wells opted to stay in for a good, old-fashioned couple's movie night, which they then adorably detailed on their respective Instagram stories. Of course, the quirky duo didn't just choose any old basic rom-com for the occasion. They selected cult fave The Princess Bride, a film that's romantic, hilarious, and a little offbeat because duh! So are they!
And as if to affirm just that point, the lovebirds watched the flick while decked out in sheet-style pomegranate face masks from Urban.
Check it out:
While this is generally a look that's best reserved for sorority sisters or old married couples who've been together for at least 10 years and have pretty much stopped trying, on these two, the whole I-dont-give-a-shiz-how-I-look thing just somehow totally works so as you wish, guys. As you wish.
It's a short trip from Halloween — when news first broke that SWells was a thing — to the winter holidays, but that didn't stop the pair from partaking in a major couple's milestone during the first week of December, when they decided to get all merry AF and go out and cop a Christmas tree together.
And again, they didn't just buy the thing and then slap on a bunch of tinsel and lights. Instead, they pimped out their evergreen with a "foodie" theme, by which I mean they accessorized it with metallic ornaments shaped like hamburgers, jalapenos, chili peppers, and a frying pan holding bacon and eggs. They even stuck on some his 'n hers beer and wine glasses because 'tis the season, amiright?
Could this be a clue that Hyland will be making a guest appearance in Adams' drunk Snapchats when the new season of The Bachelor bows on New Year's Day? Please, please, please let that be a thing. Also... do people actually call these guys SWells because if they don't, then somebody better page Gretchen Wieners real quick because I am totally making it happen.
And while we're on the subject of food... you know how when some couples first start hanging out they don't really eat because they're, like, too embarrassed to admit they actually have an appetite or something? Yeah, well, Hyland and Adams basically skipped right over that phase and headed straight into stuff-your-face-while-sitting-courtside-at-the-Lakers-game territory.
The two hit up the Staples Center back on Nov. 22 for their very first public appearance together, and instead of being all safe and boring and "I'll just have a salad" about it, they openly downed a few beers and then scarfed a matching set of personal pizzas like a couple of broskies. If this isn't just the epitome of true love, then I don't know what is.
Oh, wait. Yes I do. True love is swooping in like a badass to whisk your girlfriend away on a helicopter to celebrate her 27th birthday, and then writing a caption that details the top five ways she's #twinning with the chopper you're currently situated in:
1. They make you feel like you're floating. 2. Every moment with them is an adventure. 3. They make you feel like you're falling, in the best way. 4. They defy gravity. 5. They are really f*cking cool
And you, Wells Adams, are really a f*cking poet!
Of course, we'd expect nothing less from the dude who dressed up in a spot-on Eleven costume on Halloweekend, when the pair first became couple-official thanks to their now-iconic "Stranger things have happened" Instagram posts.
So b*tchin'.
Oh, and in case you still need proof that these two are total #RelationshipGoals, I'm just gonna so ahead and leave this here: