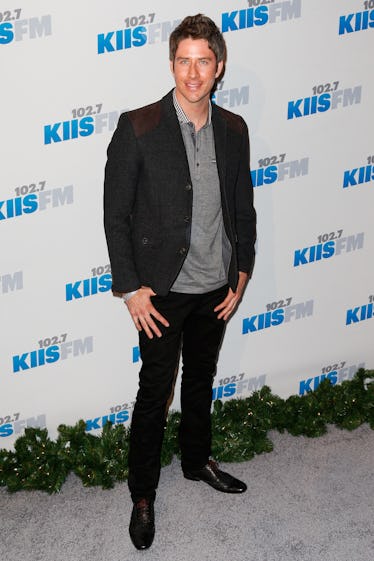 Follow The 2018 'Bachelor' Contestants On Instagram To Know Who's Vying For Arie's Heart
Imeh Akpanudosen/Getty Images Entertainment/Getty Images
The latest season of The Bachelor is almost upon us, you guys, and I'm not sure why strangers on the street look at me funny when I'm yelling about it, because this is BIG NEWS, PEOPLE. In preparation for the Arie Luyendyk's season premiere, the cast list of women vying for Arie's heart was just announced on Friday, Dec. 8, 2017. And if you're also screaming at strangers on the street because you love The Bachelor so much, you need to know how to follow the 2018 Bachelor contestants on Instagram to keep up with everything they do. And don't worry, because I've got you covered.
So grab your phone, open up your Instagram, and prepare for an onslaught of new people to follow on social media, so you can scour every picture they post for Bachelor clues. While not everyone likes to share every minute of their life with a ton of people on social media (Who are you???) here are the public Instagram accounts for the women trying to win over Arie on the next season of The Bachelor, and a little bit about them, courtesy of ABC.
1. Chelsea, 29
According to her Instagram, Chelsea lives in New England and works in real estate.
2. Kendall, 26
Kendall hails from Los Angeles, California, and coincidentally, she even has a twin sister named Kylie. (I swear, I'm not making this up.)
3. Seinne, 27
Seinne also reigns from sunny California and also works in real estate. (Serious question: If I want to be on The Bachelor, do I have to work in real estate? Asking for a friend.)
4. Jennifer, 25
While Jennifer's personal Instagram account is private, you can see some of this graphic designer's work on a second account, dedicated to her art.
5. Bekah
While it hasn't been revealed just yet how old Bekah is, we do know the contest works as a nanny in California.
6. Amber, 29
From Denver, CO, 29-year-old Amber is a business owner (and clearly someone with great style).
7. Annaliese, 32
Yet another California native, Annaliese works as an event designer.
8. Ashley, 25
Ashley is a 25-year-old — wait for it — real estate agent hailing from West Palm Beach, Florida.
9. Brianna, 25
Brianna, who goes by Bri, is a 25-year-old sports reporter and Portland, Oregon native. WOMEN IN SPORTS FOR PRESIDENT!
10. Brittane, 27
From L.A., 27-year-old Brittane works as a marketing manager.
11. Brittany, 30
A tech recruiter, Brittany, who's 30-years-old, is currently living in Austin, Texas.
12. Caroline, 26
Either The Bachelor is secretly a ploy to monopolize every piece of real estate in the world, or there are just a TON of real estate agents out there. But anyway, I digress. Caroline is a realtor from Ft. Lauderdale, Florida.
13. Jacqueline, 26
Jacqueline works as a research coordinator and resides in New York City.
14. Jenna, 28
Jenna works in social media in Raleigh, North Carolina, and as you can see from her Instagram, she is big on health and fitness.
15. Krystal, 30
Krystal's also big into fitness, as she works as a fitness coach in San Diego.
16. Lauren B., 25
Lauren B., just one of the literally four Laurens on this season, works in sales in the tech industry.
17. Lauren J., 33
Lauren J. recently received her master's degree and is from New Roads, Louisiana.
18. Alison, 27
From Dallas, Texas, Alison, who goes by Ali, is a personal stylist. (Can she help me? I have negative style.)
19. Maquel, 23
Maquel is from Orem, Utah, and works as a photographer. Seriously, if you peep her Insta, she's got some pretty dope pics on there.
20. Marikh, 27
Marikh, from Salt Lake City, Utah, owns a restaurant.
21. Olivia, 23
From windy Chicago, Illinois, Olivia works as a marketing manager. And if this is what she looks like being awkward, well, there's no hope for any of us.
22. Rebecca, 27
Rebecca, who goes by Becca, not to be confused with the other contestant Bekah, is a publicist from Minneapolis, Minnesota.
23. Lauren S., 31 (Right)
And finally, last of the public Instagrams, and last of the Laurens, Lauren S. works as a social media manager in Dallas, Texas.
24. Jessica, 26
While Jessica's Instagram account is private, you can follow the TV host and Santa Monica native on her YouTube channel.
25. Bibiana, 30
Bibiana is an executive assistant from Miami, Florida. Unfortunately, though, her Instagram is private, so you'll have to keep up with her on the actual show, instead of your phone.
26. Valerie, 25
Working as a server in Nashville, Tennessee, Valerie also keeps her Instagram account private.
27. D'Nysha, 30
While D'Nysha (who goes by Nysha) keeps a pretty low profile on social media, we know she works as an orthopedic nurse in South Carolina.
28. Lauren G., 26
Also a social media mystery, Lauren G. works as in recruiting in Los Angeles, California.
29. Tia, 26
And last, but not least, Tia, whose Instagram is also private, is a physical therapist from Weiner, Arkansas. She's also reportedly friends with Raven Gates, From Nick Viall's season of The Bachelor, according to Reality Steve.
Tune in to the premiere of Arie Luyendyk's season of the Bachelor on ABC on Jan. 1, 2018, to see all these women compete for Arie's final rose.