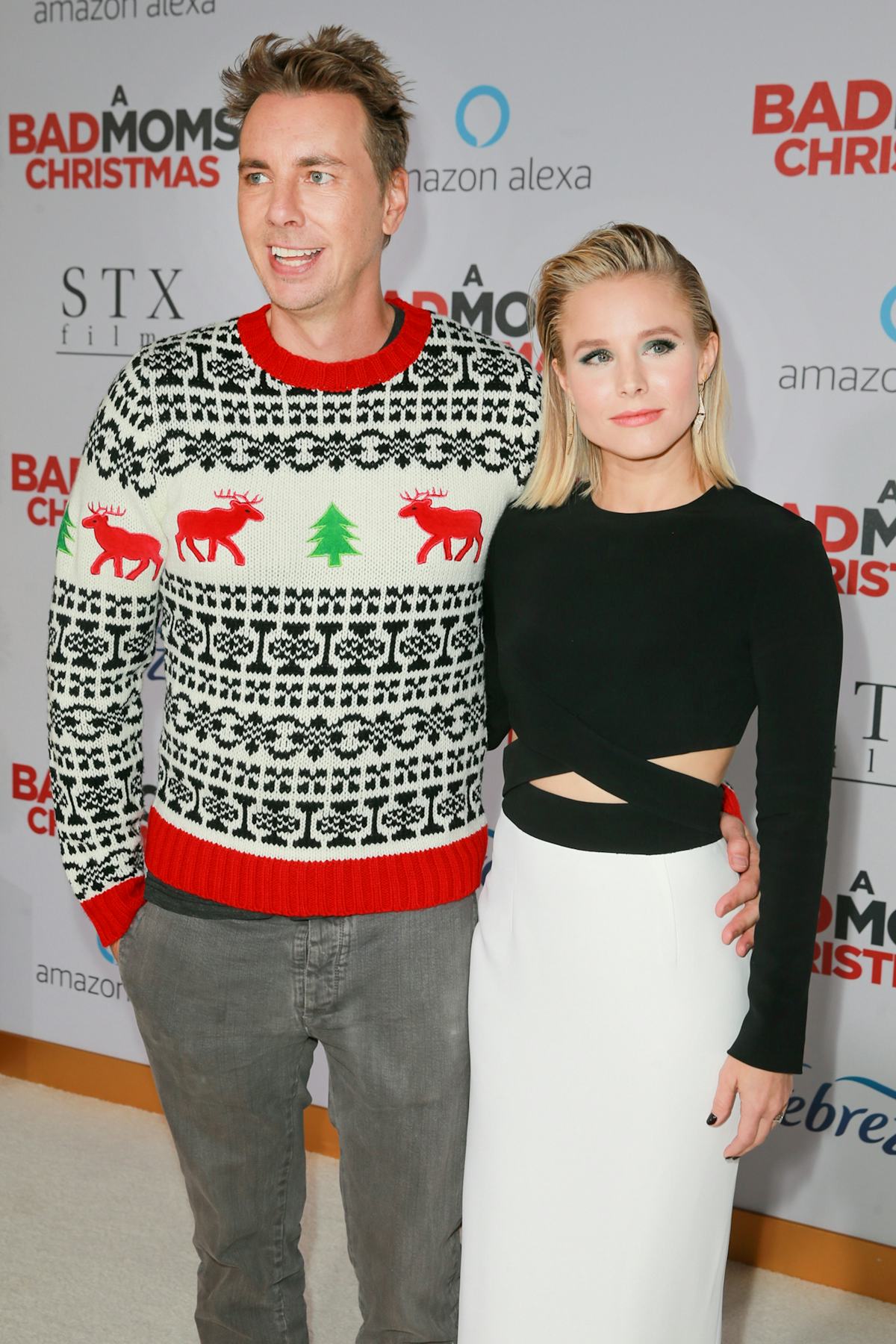 Kristen Bell & Dax Shepard Continue To Be The Cutest In Roller Skating Date Night Video
Rich Fury/Getty Images Entertainment/Getty Images
So I know the term "relationship goals" gets thrown around a lot, but seriously, if a relationship is a marathon, then Kristen Bell and Dax Shepard are the couple fist-bumping their way to the finish line. The ridiculously photogenic pair recently had a date night, and rented out a whole skating rink to do it. The Instagram video of Kristen Bell and Dax Shepard's roller skating date night that they posted is just too cute.
The pair, together with a passel of friends, apparently rented out the entirety of Moonlight Rollerway in Glendale, California, for an evening of fun and skating on Saturday, Dec. 2. The Instagram story Bell posted after the evening looks like they had a blast — from skate-dancing (how athletic) to a roller skate conga line (how artistic) and beers on the side, it looks like it was a seriously great night. But best of all, of course, are the photos and videos of Bell and Shepard just having a blast, being big old goofballs.
Bell posted two photos of the couple skating together, and, uh, she doesn't look too steady on her feet, honestly. I am intimately familiar with the locked-knees pose of a person who is nervously repeating, "You'll catch me, right? You won't let me fall?" and I'm having flashbacks. In the first photo, Bell, in jeans and a black tank, is holding the hands of Shepard, who stands behind her — and in the second, a (blurry) Bell glides toward the camera with a look of "I'm doing it!" on her face, while Shepard stands back. You're doing it, Kristen!
Or maybe I'm just projecting my own roller skating inadequacies (those eighth grade birthday parties were rough), because in a video she posted of the two shortly after, she seems like she's doing great on her skates. The two are literally rolling along, dancing as they skate to a song that I can only identify as "something 1980s." Fist pump it away, guys.
Shepard posted the same video to his own account, but he added the caption, "COUPLES SKATE!!!!!!" Oh man, even hearing the words "couples' skate" is bringing back some unfortunate buried memories, but at the same time I'm so happy that these two have someone to hold hands with during "Time After Time." It's all I could wish for for them.
On Bell's Instagram story, she posted a few more videos and photos, including a redux of one of her photos in which she tagged the roller rink. "Tonight @daxshepard rented a roller skating rink. And I had one of the best nights of my life," she wrote. The rink later reposted a screengrab of the thank you, adding its own caption. They wrote, "So glad to have been a part of one of the best nights of your life @kristenanniebell come back anytime!"
Seriously, these two are basically the best couple on — and off — the internet. They've been together since 2007 and got engaged in 2009 — but waited until 2013 to get married, holding off for marriage equality before they tied their own knot. (They finally got married after the Defense of Marriage Act and California's anti-marriage equality Proposition 8 had both been defeated.) They speak about each other adoringly, dress up as Frozen characters, hold the world's best Game of Thrones parties, and of course, how can anyone forget the Sloth Thing? I will take any opportunity to revisit the Sloth Thing, because it is literally the best thing on the internet.
But even more important, Bell and Shephard just seem so real. They've been honest that things aren't always perfect, but they do what they have to do to make it work. And that's pretty #relationshipgoals too, if you ask me.
Keep on rolling through your adorable date nights, guys. Cute IGs and sloths are what keep us all going.