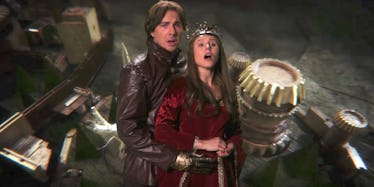 Kristen Bell Reveals Details From Her Epic 'GOT' Viewing Party – EXCLUSIVE
YouTube
Second only to a slice of thin-style New York pizza, Game of Thrones is truly the great equalizer. Therefore, the combination of the two is quite possibly the key to ending all societal imperfections; nothing brings people together like good food and better beheadings. The proof is in Kristen Bell's incredible Game of Thrones viewing party.
Bell, along with her husband Dax Shepard, is a long-time Game of Thrones fan and detailed her epic party to Elite Daily at a Naked Juice DrinkGoodDoGood Campaign event. Bell partnered with the organization because of her passion for making healthy, wholesome food accessible to all Americans (the Seven Kingdoms are presumably her next big feat).
Bell's GOT viewing party made headlines right after the Season 7 premiere, and we found out exactly how she turned hard-boiled eggs into "dragon eggs" and gave her wings some extra flair. She explained:
I made deviled dragon eggs. So I hard boiled the eggs and then dipped them in Easter egg food coloring but cracked the shell so it made this webbing on the outside, and then cut them open and added to the yolk mayo, Dijon mustard, salt, pepper – and I really love caramelizing onions and adding sherry into it. It gives them such an incredible sweetness...
And then we ordered wings, but I called them Wildling wings. My girlfriend made from a recipe on Pinterest White Walker ice cream which was black ice cream because you take black sesame seeds, and she ground them up, so it tasted like peanut butter but it was pure black ice cream, and then she sprinkled blue sprinkles on the top and skull and crossbones sugar cube things. It was pretty cool.
While Bell is dedicated to promoting a healthy lifestyle, she revealed she's not one to hold herself back because you really do only live once -- discluding Jon Snow.
I give in a lot. I give in. I'm not perfect. I make this my mission to try and eat whole foods and pay attention, but I will absolutely stop and get ice cream. I will absolutely eat a grilled cheese sandwich with processed American cheese – we camp all the time, that's what we make. But I just balance it. It's kind of like you let yourself have cheat days, and I'm not really striving for perfection because I'm on earth once.