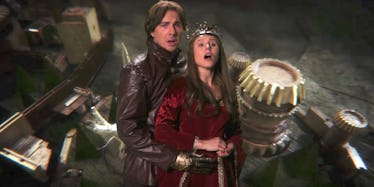 Kristen Bell And Dax Shepard Made A 'Game Of Thrones' Video And It's So, So Extra
YouTube
If you think you're being extra about the Game of Thrones Season 7 premiere this Sunday, I have some good news for you.
And that good news is: You cannot possibly be as extra as Kristen Bell and Dax Shepard who, for no reason other than sheer nerdiness, made this extra AF video of themselves playing the Game of Thrones theme song.
Just how extra is this video? I'm talking green screens, costume changes, and several real orchestral instruments — that level of extra.
This incredible display of enthusiastic geekery from the famous married couple was published on Dax Shepard's YouTube channel on Thursday, four days before the Season 7 premiere.
Shepard wrote in the caption of the video,
Words can not express our horniness for the Game Of Thrones Premier. Hopefully this video will. #GOT #GameOfThrones #KristenBell #DaxShepard #ShowYourGOTLove THANK YOU to THE GOOD PLACE ANGELS!!!!!!!!!!!!!!!!
(Should someone tell Dax how YouTube tagging works, or nah?)
Uh, I think these guys might be excited about the Game of Thrones premiere, you guys. Maybe? It's just a feeling I get.
The video is only the length of the show's iconic opening music — so just over a minute — yet Bell and Shepard manage to cram in four different costume changes, portraying all your favorite GOT characters.
The video concludes with something that will surely make Jon Snow/Daenerys Targaryen shippers happy: a hot and heavy, in-costume make-out session.
I guess we know what #team these two are behind!
This is not the first time the celebrity couple has expressed their intense enthusiasm for the HBO show.
Last year, Bell and Shepard showed up to the Game of Thrones Season 6 premiere in temporary neck tattoos and shirts that read, "Stark in the streets, wildling in the sheets."
Look, there's no other way to put this: Bell and Shepard are huge freakin' nerds. Stars – just like us, but with the money to be even more extra about it.
Game of Thrones Season 7 premieres Sunday, July 16 at 9 p.m. on HBO.