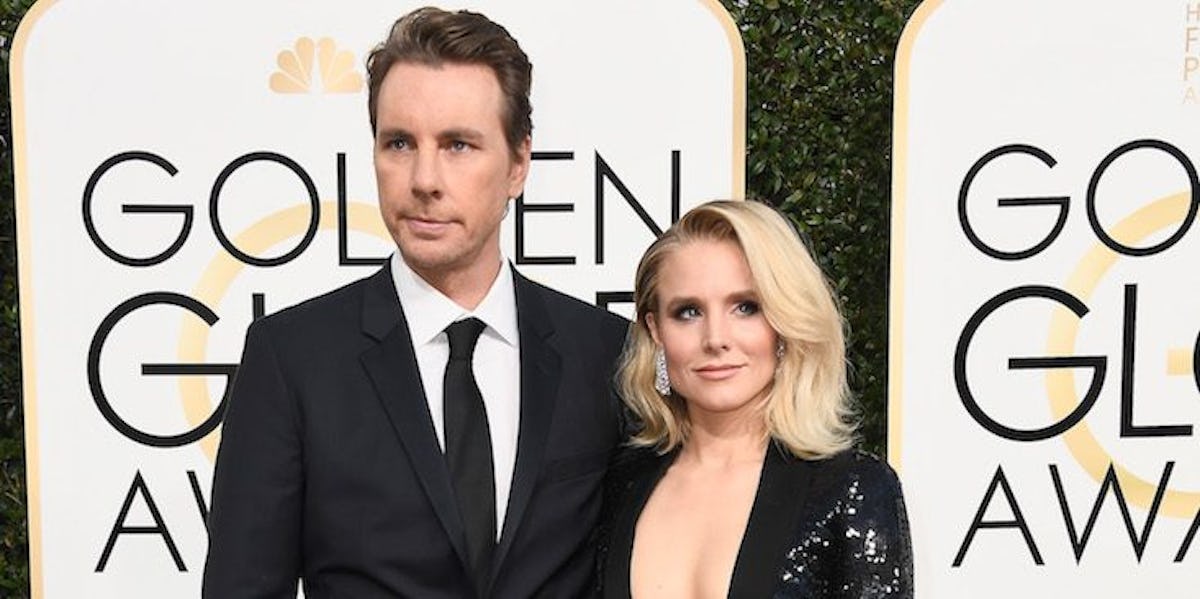 Kristen Bell Reveals Early Days Of Her Relationship With Dax Shepard Were "Toxic"
Frazer Harrison/Getty Images
Kristen Bell and Dax Shepard make up one of Hollywood's favorite couples. The pair has such an open, loving, supportive relationship, it's hard not to be obsessed with them. But Bell recently revealed that it wasn't always smooth sailing for them. Before we even dive into this new truth tea Bell is spilling, how long have Kristen Bell and Dax Shepard been together? It feels like forever, right?
The parents of two met and started dating all the way back in 2007 after meeting at a birthday dinner. They originally got engaged in 2009, but then put their engagement on hold until same-sex marriage was legalized in the United States. Then, once the Defense of Marriage Act (DOMA) and Prop 8 were dead, Bell proposed to Shepard on Twitter and they were married in a California courthouse in October 2013. These guys. But like we said before, it apparently wasn't always picture perfect for Bell and Shepard.
In a recent interview with Harry Connick Jr., Bell revealed the first three months of their relationship was actually "toxic," as they were constantly fighting and making "dramatic exits" from said fights, leaving behind unresolved tension. The Good Place actress said,
When we first met, we fell madly in love and I love the dramatic exit. There is nothing I crave more. We'd get in a fight because we'd fight a lot, and I'd yell something and then slam the bedroom door, then I'd slam the front door, then I'd get in my car and then I'd skid out the driveway and I would sit around the corner in my car and it felt so good and I realized how incredibly toxic it was only after he pointed it out.
Bell added,
Three months into our relationship he was like: 'You can't leave anymore during fights. I'm not going to do that.' He has a very high standard and a strong code of ethics. He was like: 'No, I have more respect for myself. I love you, but I'm not going to do that my whole life. Our marriage won't survive.'
She also explained that Shepard made her realize her storming away from fights in a "dramatic exit" didn't give her an automatic win just because her actions ended the fight. Ended doesn't mean resolved. Bell said,
He said, 'Let's just help you. You are not a good fighter.' And I always thought I was because I won. He's like, 'No, people can't do that. Our marriage won't survive.' And everything he was saying was making so much sense and I was like damn this guy.
Bell and Shepard's relationship clearly wasn't easy to build, but the best ones shouldn't be! Relationships take work, fam. You've got to learn how to grow ~together~. Bell and Shepard now have two daughters together: 4-year-old Lincoln and baby Delta, who was born in December 2014. Bell revealed in the same interview that Shepard commemorated his love for his wife and daughters in a tattoo on his ring finger! Be still, my beating heart. Bell said,
Can I tell you this: My husband surprised me. He doesn't like jewelry of any kind. He, like, can't handle it. He surprised me one random evening, he came home with a bell tattooed on his ring finger with my initial, our first daughter's initial and our second daughter wasn't born yet but he put a D, so we were a little cornered and we named her Delta. He really wanted to name her Delta. But he put all three of our initials on a bell. I think that's cute.
UGH, THESE TWO ARE SO STINKIN' CUTE AND HAVE SUCH A STINKIN' HEALTHY RELATIONSHIP BUILT ON A STRONG FOUNDATION OF HONEST COMMUNICATION AND LOVING SUPPORT. I THINK I'M GONNA THROW UP.