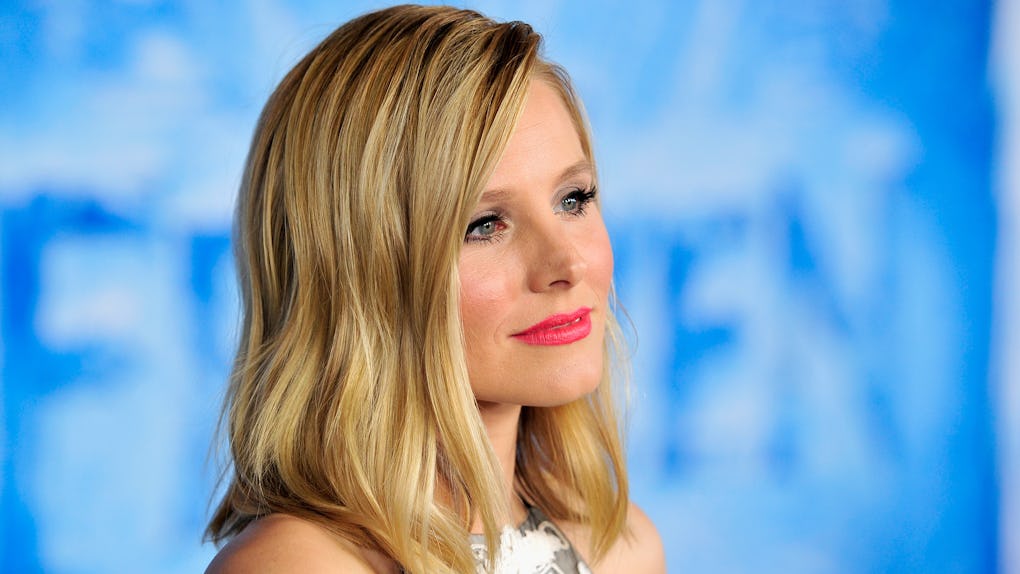 Frazer Harrison/Getty Images Entertainment/Getty Images
Photo Of Kristen Bell Dressed As Elsa From 'Frozen' Is So, So Hilarious
If you were to ask me who the best character in Frozen is, I would unequivocally say Olaf because obviously. But if you were to ask me who the best human character in Frozen is, I would say Anna. And I feel like that's also obvious, seeing as she's voiced by the one and only Kristen Bell and is hands down the funniest Disney princess out of all of the Disney princesses. But it looks like Anna isn't number one in the eyes of Bell's daughter, seeing as Kristen Bell's daughter made her be Elsa for Halloween. Bell posted the hilarious photo of her dressed as Elsa last night, Oct. 29, and the look on her face says it all. She said in her caption,
When your daughter demands you BOTH be ELSA for Halloween...you GRIN AND FORKING BEAR IT. #halloween
I don't know what I love more about this post... the look on Bell's face, or the excellent reference to The Good Place when she said "forking." (Side note: You 100 percent should be watching The Good Place if you don't watch it already). The photo immediately got lots of love from fans, and lots of them think she actually pulls off the Elsa look really well! The blonde hair definitely helps.
I just have one question: Was Dax Shepard Olaf?
Can we talk about how freaking amazing her Elsa dress is, though?! Just look at that thing!! I would get married in that thing!! Because of this, I have several follow-up questions for Bell. Who made this gown? Did you buy this gown from Disney? Did you call up the Disney costume department and be like, "Hey guys, Kristen Bell here. I need you to make Elsa dresses for my daughter and me for Halloween. Yes, I said myself. Yes, I know I played Anna. Yes, my daughter also knows I played Anna. Yes, this is the worst. Look, can you just do it please?!" I really need to know how this all went down.
Bell has been busy promoting her new film A Bad Moms Christmas lately, but that wasn't going to stop her from spending the spookiest day of the year with her kiddos! Kristen Bell and Dax Shepard have two daughters together, Lincoln and Delta, although Bell didn't reveal which daughter wanted them to be Elsa for Halloween. And before this truly excellent Frozen Halloween experience, Bell has actually been making a lot of amazing Frozen references recently, and I'm living for all of them.
Back when Hurricane Irma hit Florida, Bell got stuck in a Disney World hotel and decided to make the best of it by hosting Bingo games and doing impromptu talent shows with Frozen fans.
She posted all about her experiences during Hurricane Irma on Instagram, and it proves she's really just an all around swell gal. In a post from Sept. 10, Bell took a quick selfie of her chugging from a Frozen water bottle while hosting a Bingo game with all of the senior citizens who had to evacuate to her hotel, the Walt Disney World Swan and Dolphin. She said in the adorable photo,
There are a few thousand senior residents who evacuated to our hotel. We are gonna make lemonade outta Irma as best we can and I'm fueling up the only way I know how in order to call a few hours of BINGO! #irma #hurricaneirma
Bell also sang "For The First Time In Forever" with a fan at a nearby middle school when she was still stuck in Florida, and the video is just so pure.
In the video, Bell is seen singing her character's signature song with a fan named Rebecca taking on the role of Elsa. There's also a very happy dancing security guard in the background who looks like he's having the time of his life.
To add more proof to the fact that Kristen Bell is just the best, she also helped her Frozen co-star's family find safety before Irma hit.
Josh Gad, a.k.a. the voice of Olaf (!!), posted on Instagram on Sept. 9 thanking his co-star for helping to save his family before the hurricane hit. He said in the post,
So @kristenanniebell literally saved my parents and my entire family tonight from #hurricaneirma . When they were stranded in Florida, she got them a hotel room at her hotel in Orlando and saved them, my brothers, my sister-in-law and niece and nephew. They don't make them like this girl. Thank you Kristin. You are truly an angel sent from above. And thank you @ewablueeyesfor bother her when I asked you not to!!!!
Are we sure Kristen Bell isn't actually a Disney princess herself? Anna 4 ever.