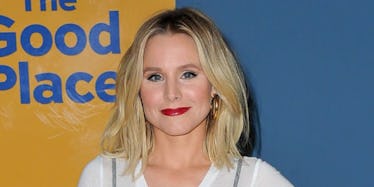 Kristen Bell Performed 'Frozen' Songs At A Hurricane Shelter, Proved She's A Perfect Human
llen Berezovsky/Getty Images
Hurricane Irma has left thousands of people stuck in Florida waiting for the worst of the storm to pass, but throughout the struggle, there have been plenty of people volunteering to help those in need. Kristen Bell has been stuck in Florida herself, so while she was there, she decided to help people prep for the storm and find safe places to stay. Her Frozen co-star, Josh Gad, says Bell "saved" his family by getting them to the hotel where she was staying, and now she's also lending a hand in the emotional support arena. Kristen Bell performed at a hurricane shelter at a middle school to help lift the spirits of those affected by Hurricane Irma, and it will restore your faith in humanity.
Bell took to the Meadow Woods Middle School stage to sing "For The First Time In Forever" from Frozen, and it's like a middle school talent show rehearsal, and I mean that in the most amazing way possible. The actress posted about the performance on her Instagram, in a post that said, "When you're #singinginahurricane, your volunteer back up dancers can & will steal the show. Richard and Rebecca everyone! #hurricaneirma." Meadow Woods also posted a video of the little show on its Facebook page.
In the video, you can see Bell singing the part of Anna (obviously) and a fan named Rebecca singing the part of Elsa. There's also a security guard dancing happily in the background, and you just know he's danced to Frozen before. It's a thrill to witness. Bell has been stuck at her hotel — the Walt Disney World Swan and Dolphin hotels — for a couple of days, but that hasn't stopped her from playing her part in helping keeping spirits up. According to her Instagram, thousands of senior citizens were evacuated to her hotel, so she did what any person would do and scheduled a Bingo night. What a pure, majestic creature of light who we do not deserve. Bell posted on her Instagram on Sunday, Sept. 10, saying,
There are a few thousand senior residents who evacuated to our hotel. We are gonna make lemonade outta Irma as best we can and I'm fueling up the only way I know how in order to call a few hours of BINGO! #irma#hurricaneirma
She also posted this adorable photo with her Bingo pals. I wonder if they also played Bunco? Does everyone know what that is? Am I alone? OK.
And just before the hurricane began, Bell posted a selfie of her and a friend gathering supplies in order to help out others.
Last run to the store for #irma hurricane holdover prep while bracing down in orlando- we didn't have the option to leave so here we are. Just doing our best and trying to stay positive but cautious, and trying to help those who need help prepping. Every person i passed today was assisting someone else- #neighborshelpingneighbors- it was beautiful to see. Sad that a hurricane has to bring out the best in everyone- but happy that the community will be holding hands through this. Im grateful to Gary and the team at @swandolphin in epcot for helping us feel safe while we get through this together.
Josh Gad took the time to thank his co-star for making sure his family was safe from harm.
So @kristenanniebell literally saved my parents and my entire family tonight from #hurricaneirma . When they were stranded in Florida, she got them a hotel room at her hotel in Orlando and saved them, my brothers, my sister-in-law and niece and nephew. They don't make them like this girl. Thank you Kristin. You are truly an angel sent from above. And thank you @ewablueeyesfor bother her when I asked you not to!!!!
Kristen Bell is the Hurricane Irma MVP.