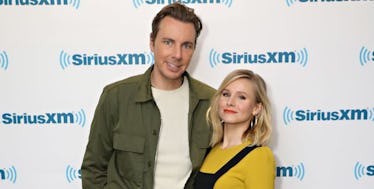 Kristen Bell And Dax Shepard's Almost-Breakup Story Proves Love Is Still Real
Cindy Ord / Contributor / Getty Images
Celebrities change partners as often as Kylie Jenner changes hair color, yet somehow, each Hollywood breakup manages to hit fans right in the feels. Some —eh, most — aren't exactly unexpected. But others completely shake us to our core and make us question everything about true love. Even Tinsel Town's favorite pair, Kristen Bell and Dax Shepard, almost broke up, so you know there are definitely some bumpy rides on the way to a happily ever after.
It sounds like a typical sob story. The two began dating, but weren't quite on the same page three months into their relationship. "He sat me down and said, 'I can't have this right now. I think you're wonderful, but I am still dating other people,'" Bell revealed to POPSUGAR. Ouch. Nothing is worse than when a partner is keeping a SO only as an option.
The breakup — luckily for both parties (and fans) — didn't last that long. Shepard called Bell four days after making this declaration, insisting he made a huge mistake and realizing he wanted to be with her, and the rest is history... well, sort of.
"I still always remind him of when he broke up with me," Bell told POPSUGAR. How... sweet?
The two married in 2013 after same-sex marriage had been passed and have two daughters together, but it wasn't always peaches and cream for the happy couple (obviously).
Bell also had a recent heart-to-heart with Us Weekly, where she was extremely frank about making their love work. She said,
Our marriage took a lot of work, takes a lot of work. I don't think people realize. It's not easy to work around another human being, but if you commit to it, you can pretty much permanently respect that person, but then it doesn't really matter if you disagree because you still respect that person.
So yes, there are definitely ups and downs in the game of love, but that doesn't mean it's all over when things go south. Take it from these two. Deep breaths, people, deep breaths.