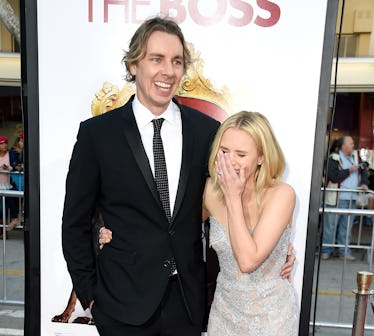 5 Kristen Bell & Dax Shepard Quotes That Prove They Are Ultimate Marriage Goals
Frazer Harrison/Getty Images Entertainment/Getty Images
I'm not even going to front: I have a crush on Kristen Bell and Dax Shepard's marriage. They're these two people who are mega-famous and beautiful, but seem totally down-to-earth, hilarious, and smitten with each other. It makes my heart explode into a million pieces and sort of wish that I could live in an alternate reality where I was Kristen Bell. Or Dax Shepard. (Seriously, I'm game for either.) They are the epitome of what an awesome, near-perfect marriage looks like, and the Kristen Bell and Dax Shepard quotes below are proof.
The pair started dating back in 2007 and got engaged in 2010, but being the ridiculously awesome people they are, decided to wait until the state of California legalized same-sex marriage (and when the law passed, Bell "proposed" to Shepard on Twitter, so you can love this girl even more). They officially tied the knot in 2013 and have since had two daughters, Lincoln and Delta, because boring, mediocre names just won't cut it in the Bell-Shepard household.
Though their marriage doesn't come without difficulties – they ARE only human, after all (unless that's only what they want us to believe?) – they remain pretty open about the importance of communication and are quick to tell the media that they are not perfect.
TBH, I don't really believe them, because anyone who makes a video to Toto's "Africa" is pretty friggin' perfect in my eyes.
Without any further adieu, I give you the most adorable quotes that Kristen Bell and Dax Shepard have said about each other that will make your cold heart melt:
When Kristen Bell got real about what's important in life:
If you think the couple puts their work above all else, honey, you've got it twisted. And as busy as Kristen Bell is, starring in The Good Place (which I'm shamelessly plugging because that show is pure genius), she makes it clear that her marriage and her children are more important than a job will ever be. In an interview with CBS News, Bell opens up about her family life:
I always think, if I'm on my deathbed, what am I gonna be thinking about? And it won't be some random movie I participated in, or some TV show. It will be my family.
That quote is honestly almost as heartwarming as that time when Shepard surprised Bell with a sloth (her favorite animal) for her birthday party, and she had a total meltdown.
See what I'm saying? Marriage goals, people.
When she admitted that their marriage is not perfect:
In a world where celebrity marriages can last 72 days and that's literally impressive, it's almost non-existent to see one that lasts for years, with no signs of slowing down. It's even MORE impressive when those celebrities open up to the media to show that their marriage isn't flawless (even though their faces are). In an interview with Entertainment Tonight, Bell reveals the struggles in her relationship to Shepard:
Our relationship wasn't perfect ... We had a couple years of fighting and of growing pains and hating each other, then loving each other and going to couples therapy and we worked it out … We earned each other.
They. Earned. Each. Other.
I'M NOT CRYING, YOU'RE CRYING.
When Dax Shepard told the world that Bell is out of his league:
Dax Shepard is hysterical and witty, and has this sort of sex appeal in a gritty way. But Kristen Bell is Kristen Bell. She's like the lovechild of Cinderella and a Nordic goddess; she's stunning. And you guys, Shepard totally knows this. Shepard admits that he has no idea how he won Bell over:
If Brad Pitt gets Kristen Bell, it's like, 'Well, of course he did,' ...With me, it should be, 'Oh good, a normal-looking guy got her. Maybe I'll get me a Kristen Bell.' But guys hate my guts for always dating women I have no right to be with.
That's right, Dax. Clap back at the haters. Because you know what? These two make a damn good pair.
Dax cleans up pretty nice, TBH.
When they disagree on almost everything, but respect the other's perspective:
If you're a normal human, you'll know that your opinion is usually the right one, and whomever you're fighting with is almost always wrong. But guess who has learned to - gasp - respect each other's opinions, and not put each other down when they disagree? If you guessed Kristen Bell and Dax Shepard, good job! (Honestly, you're halfway through a post about them, so if you didn't get this correct, I cannot help you.) In an interview with Us Weekly, Bell talks about fighting with Shepard:
I do disagree with him on 90 percent of the issues on the planet ... But we have really wonderful, intense valued conversations about things, and I always see his point, even if I disagree. It's hard to do ... It's all about contempt. Never roll your eyes at someone ... You might as well break up right then because its contempt. I'm telling you — I disagree with him on almost everything, but I have intense respect for his critical thinking skills and the fact that we were raised differently. I always see his point. I do not and will not ever have contempt for him.
Can Bell teach a seminar on this? I'm not following.
When Bell called Shepard her "Prince Charming":
By this point, you've probably already realized that Kristen Bell and Dax Shepard are considered expert-level at being awesome at this whole relationship thing. But let's just really drive the point home, guys. In an interview with Vulture, the couple sat down together and had some pretty sweet words to say about each other. Like when Bell told us her thoughts about her husband:
During the first year of our relationship, after I already knew him to be my Prince Charming, Dax would casually go into the details of say, a story about what had happened on spring break in high school or college, and I was aghast that who that person was, who made those decisions, was the person I was looking at now.
*wipes away tears*
And Shepard recalls his sordid past, and how his wife has helped him see past his demons:
I probably should have gone to jail at some points in time, but I didn't, somehow ... I have a whole system that works for me, and that's part of my worldview now. It's how I think of the world and how Kristen and I communicate. We don't let resentments fester. We just get it out and handle it and keep going.
Well, there you have it, ladies and gentlemen. If you're looking to find the recipe for a perfect marriage, take a page from these two and make sure you enforce communication, understanding, and most importantly, sloths.