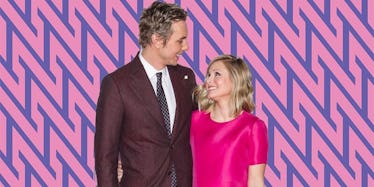 Kristen Bell Got Super Emotional While Talking About Her Husband Dax Shepard
REX/Shutterstock
There must be something in the water: First Jennifer Aniston got all teary on us, now Kristen Bell is getting big time emosh.
The 36-year-old was talking about her husband Dax Shepherd when she started crying.
She told CBS Sunday Morning,
He's a wonderful father... He knows the value of things. He was an addict for many, many years and he pulled himself out of it, and he's been sober for 11, 12 years now... He knows how many times he's messed up and how many times he's been really close to losing everything.
Wow. He must be something pretty special because she couldn't help but get all weepy.
It's worth noting Kristen Bell cries over sloths, so getting weepy over her husband is hardly surprising.
Let's remind ourselves of how outrageous that sloth-cry was.
Kristen was talking about her new role in the comedy "Bad Moms."
The actress said she feels like she "doesn't deserve" to be where she is today and pins her success to "being in the right place at the right time."
Kristen and Dax met at a hockey game in 2007 and are literally the best celebrity couple.
They hitched up in 2013 and have two daughters together.
Their relationship goals are dreamy.
Citations: ​Kristen Bell takes nothing for granted (CBS News)