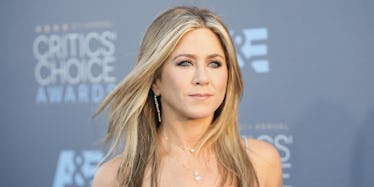 Fan's Seriously Deep Question Makes Jennifer Aniston Cry In Live Video
REUTERS
Thank you Jennifer Aniston for reminding us that Hollywood superstars are human as well.
The 47-year-old was at the Giffoni Film Festival in Italy this weekend fielding some questions at a fan Q and A when one woman served her this absolute brain-melter:
I'd like to know if you ever had a moment in which you get up a morning and you don't know who you are.
Deep.
We don't know if it was the fine Italian wine or the European air that was making Jen all emotional, but she battled hard to fight back the tears.
It's beautiful, really. She's properly welling up over a question we can all relate to.
She replies,
Yes, that moment has happened to me -- there's not enough fingers and toes in the room to count how many times that happened. We're all human beings at the end of the day, whether we're a waitress, a baker, a student, or whatever we are, at the end of the day you can hit walls and think I can't go any further or this is too much or my heart can't take it or the pain is too great or am I good enough? Will I survive? And you just have to sort of somehow miraculously overcome. You just go, 'I can, yes I can, yes you can'.
Wow. Well, that's today's unlikely source of inspiration found.
Take Jennifer's words and wisdom and own today.