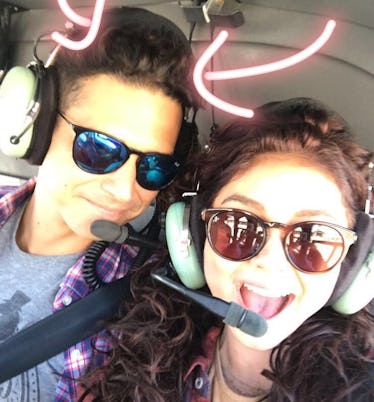 Wells Adams Surprised Sarah Hyland With An Epic Birthday Date & We're All Jealous
Sarah Hyland and Wells Adams are quickly becoming #couplegoals. The Modern Family star and Bachelorette alum can usually be found being adorable on the either of the pair's social media accounts. Well, they definitely just upped their cute factor with their latest excursion, because these photos of Sarah Hyland's birthday date with Wells Adams included a super romantic helicopter ride.
The new couple has been celebrating Hyland's birthday, which is Nov. 24, all week. The most grand gesture, though, has to be the helicopter ride to Catalina Island, with which Adams surprised Hyland. Hyland took to her Instagram on Thursday morning, Nov. 23, to share the swoon-worthy details of her Bachelorette-style birthday date with her followers.
The newly 27-year-old sitcom star warned her followers that she was about to post some "really, really annoyingly cute, vomit-worthy videos." Don't worry, though, because you won't really need to "get out your vom-buckets," as Hyland suggests — they are just not the kind of couple that you can hate for being adorable. Plus, it's nice to know that Adams wound up with love and a use for showing off his over-the-top-romantic date skills acquired during his time on The Bachelorette.
OK, I'll get to all the cuteness of the helicopter ride now. According to Hyland's Instagram story, Adams surprised her with the Catalina helicopter ride on Wednesday, Nov. 22.
Hyland shared this photo of the surprise.
Even with only three-quarters of her face in the shot, you can still tell that Hyland is hella excited for this birthday chopper ride.
Next, Hyland shared a video of the couple getting onto the helicopter, and they look very pumped to take to the sky and get Hyland's birthday celebration going.
Here is the cute couple prepping for takeoff.
If you notice the fanny-pack-looking accessory that Adams is sporting, you might think that he was just trying to go hands-free during the ride, but it's actually a "sandwich holder." Hyland was showed herself rocking the sandwich holder earlier, and I'm not sure if it was part of the birthday surprise from Adams, but if it was, he is definitely a keeper.
See? It's perfect. Hyland "LOVES sandwiches," and now she won't be hungry on the helicopter. #thoughtful!
If you think that's adorable, brace yourself. The in-chopper pics are to die for.
Hyland shared this pic of the pair all decked-out in shades and helicopter headsets as she (appropriately) dubbed Adams "the cutest ever."
In the spirit of Thanksgiving, Hyland posted another snap from the helicopter and shared that she is "very grateful for this one," referring to Adams (and presumably his penchant for amazing birthday surprises).
Heart emojis make everything more adorable.
If you're like me, you'd probably be very much here for Hyland posting all the pics from the cutest helicopter birthday trip to Catalina, but of course, the couple needed some time to actually enjoy the trip without having to snap pics. So, Hyland shared this adorable black-and-white photo of the couple and said she was "done with the gush for now."
Looks like love is in the air (only pun, I swear).
The couple only recently became Instagram-official on Halloween, when Hyland shared a photo of the couple dressed as Eleven and Dustin from Stranger Things. Since then, though, there has been no shortage of the couple sharing snaps and videos from their cute courtship. In fact, on Tuesday, Nov. 21, Hyland posted the couple's outing to the Lakers game, and they looked just as cozy courtside as they did in the helicopter.
As long as the couple keeps going strong, it's safe to say that you are in for some very swoon-worthy posts.
Check out the entire Gen Why series and other videos on Facebook and the Bustle app across Apple TV, Roku, and Amazon Fire TV.