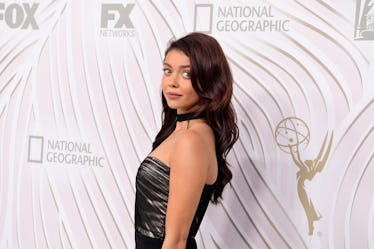 Sarah Hyland May Be Dating This Former 'Bachelorette' Contestant & We're Here For It
Emma McIntyre/Getty Images Entertainment/Getty Images
There could be a new celeb couple on the horizon, and it's a little... random. I promise, you won't be upset. Do you know Sarah Hyland aka Haley Dunphy on Modern Family? Of course, we all like her. OK, great. Do you remember Radio DJ Wells Adams from JoJo Fletcher's season of The Bachelorette turned Bachelor In Paradise bartender? Yes, he's the best. If you're asking, "Are Sarah Hyland and Wells Adams dating?" you are moving in the right direction.
Although nothing has been officially confirmed by either party, Hyland and Adams have been getting extremely close on social media and IRL. The flirtation started in early August. Hyland is a well-known fan of The Bachelor franchise (I mean, who isn't?). She first tweeted about Wells on Aug. 14. She said,
OH MY GOD @WellsAdams IS THE FRIKKIN BARTENDER?! Best. Season. Ever. #BachelorInParadise
This tweet was met with basically a standing ovation by fans of Hyland and the franchise. Seriously though, Adams is the best accessory in The Bachelor franchise series. Adams didn't let this tweet slide by unnoticed. He replied the same day,
Taking applications for #BIP5 bar backs now. Please send references.. Preferably from Phil Dunphy. I'm kidding the job is yours @Sarah_Hyland
I'm a huge Wells fan, but I didn't find his response that charming or clever. Sorry, Wells. However, it was clearly enough to break the ice.
The next hint was dropped by Adams on his and Brandi Cyrus' podcast, Your Favorite Things Podcast with Wells & Brandi. The title of episode seven that was published on Oct. 13 is "Wells Likes A Girl." OK, incriminating AF.
He doesn't mention Hyland's name (or anyone else's) during the 72-minute podcast — It's actually a little frustrating. He does, point-blank, say, "I like this person." He also goes on to mention how great it feels to like someone so much. WE GET IT, WELLS, YOU'RE HAPPY.
Adams also told his co-host, Cyrus, that he and his mystery lady have not defined the relationship, but he's not seeing anyone else. Cyrus also spilled the beans that Adams has been flying out to Los Angeles a lot recently to see his new woman. YOU KNOW WHO LIVES IN LOS ANGELES? A CERTAIN MODERN FAMILY ACTRESS.
The final giveaway to their budding potential romance came Halloween weekend. On Oct. 29, Hyland posted pics from a costume party. She was dressed as Dustin from Stranger Things and Wells was standing by her side dressed as Eleven.
The costumes are so, so epic. They also look like they took a lot of planning. Hmmmm... Adams and Hyland don't look affectionate in either of the pictures, but, you don't Stranger Things couple costume with someone and it not mean anything. I'm sorry, I guess I'm old-fashioned like that.
While their potential relationship seems somewhat out of the blue, I'm totally into it. Adams and Hyland are both obsessed with their dogs and are known music lovers. So, I think they probably have a lot in common.
Cute AF, right?
Hyland recently split from her boyfriend of two years, Dominic Sherwood, in August. According to Entertainment Tonight, Hyland and Sherwood's relationship had just run its course. The two started dating back in March of 2014 and share two dogs. The breakup seemed to be somewhat mutual, and, according to two sources from E! News, "It's genuinely mutual and amicable and they truly remain friends."
I do believe that, sometimes things just don't work out and people drift apart. Hyland has seemed in great spirits since the breakup, and looks happier and healthier than ever.
If Hyland and Adams start dating, I'm totally here for it. If he makes her happy, that's all that matters. According to what he said in his podcast, it sounds like he's all about her, too. Wishing the best for these potential love birds.
Check out the entire Gen Why series and other videos on Facebook and the Bustle app across Apple TV, Roku, and Amazon Fire TV.