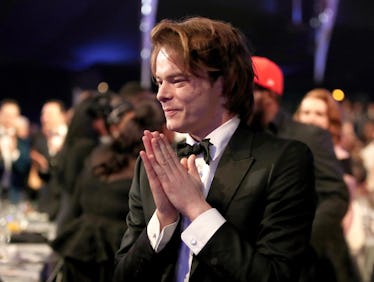 Jonathan From 'Stranger Things' Was Reportedly Caught With Cocaine & Barred From The U.S.
Christopher Polk/Getty Images Entertainment/Getty Images
One major actor was noticeably absent from the Stranger Things Season 2 premiere last week. Charlie Heaton (aka Jonathan Byers) was not able to walk the red carpet for a very unfortunate reason. Heaton was reportedly caught with cocaine at Los Angeles International Airport, and has been barred from entering the United States, according to the Associated Press.
On Oct. 21, a drug-sniffing dog picked up "a small amount of cocaine" in Heaton's luggage, the AP reported. As a result Heaton, who is a British citizen, was denied entry into the United States and sent back to London. The actor reportedly wasn't arrested and charges have not been filed against him. All this information comes from a law enforcement official who told the AP they "couldn't discuss the matter publicly." Elite Daily reached out to Heaton's representative for comment and did not receive a response by publication.
Fans are already starting to panic hardcore that Heaton won't be allowed back to the United States in time to shoot a third season of Stranger Things. However, an unnamed source told TMZ that if Heaton reapplies to enter the U.S., he will be able to, so let's hope they're right.
Reactions on Twitter ranged from deep fear about potentially losing Jonathan Byers, to lots of gratuitous shots of the actor shooting Stranger Things, looking very brooding and cool. We all worry in our own ways.
Jonathan Byers was Heaton's breakthrough role, and the actor was still pinching himself when he sat down with Paper Magazine in August 2106, saying,
[I'm] definitely overwhelmed — still overwhelmed. Every day it keeps growing. Its fan base keeps growing. I just remember reading the pilot and being like 'All right!' You know when you pick up scripts, some are good and some are great, and this really felt great. It felt like I was reading a classic script. Everyone worked so hard for it to be received like this, so it's amazing. I keep pinching myself.
Couple that with the fact that he's working with screen legend Winona Ryder, and it's all be a very crazy experience for the 23-year-old actor. He explained,
I mean, [Winona] is an icon and she's worked with some of the best people. It's weird, I didn't really think about [the fact that] I was going to be working with Winona Ryder. I knew I was playing her son but [there was still a part of me that was like] 'Oh my god! This is insane.' But then I got to set and she's so lovely and wonderful and forgiving. Instantly, it felt like working with any other person. She's amazing, but she's also very down to earth, very supportive of whoever she's working with. It's kind of cool. I mean, it's super cool. I mean, f*ck. Yeah, f*ck, it was so cool.
Plus, Heaton is reportedly dating Stranger Things co-star Natalia Dyer — which makes this whole potentially being barred from the United States situation a whole lot bleaker.
While the two have yet to officially DTR, they've been spotted holding hands and looking awfully cozy at various events together. Oh yeah, and then in March, when TMZ straight-up asked the pair if they were dating Dyer gave this answer,
Whether people are dating or just hanging out, I think our cast is just cool with each other. I mean, I won't speak for anybody else but it's been you know. We're all one big family.
Heaton added,
Some people like to read into certain things.
Meanwhile, a third season of Stranger Things is definitely a go, so fans need to keep thinking good thoughts for Heaton. Matt and Ross Duffer, the show's creators, confirmed the third season to Vulture, with Ross saying,
We're thinking it will be a four-season thing and then out.
Matt added,
We just have to keep adjusting the story, Though I don't know if we can justify something bad happening to them once a year.
Fingers crossed that it all works out for Heaton. Stranger Things would not be the same without all that (lovable) creepiness.
Check out the entire Gen Why series and other videos on Facebook and the Bustle app across Apple TV, Roku, and Amazon Fire TV.