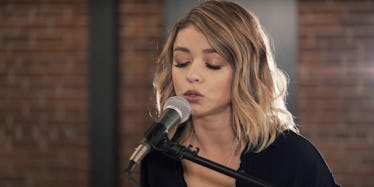 Sarah Hyland Covered The Chainsmokers' 'Closer' And It Will Give You Chills
YouTube
Whether you like it or not, "Modern Family" star Sarah Hyland is making her name known in music.
If you were completely unaware that the 25-year-old actress had angelic chords, consider yourself fully aware. How does it feel to know that you will no longer be missing out from this point going forward?!
It feels SO good -- I know, I know.
Sarah Hyland teamed up with Florida rock band Boyce Avenue for an acoustic rendition of The Chainsmokers' monster hit "Closer." Let's just say if it's been forever since you've gotten chills purely from listening to music, that's all going to change.
Hyland took to Instagram to gush over the collaboration with a photo of fan art made for the cover song with a caption, reading,
THIS IS AWESOME FAN ART! Thank you so much Boyce Avenue for asking me to collaborate with you guys! I've been dreaming of doing this since I was 19 years old! #closer #cover #thechainsmokers #boyceavenue
Here's the post.
As for the video of her blissful, soothing cover of The Chainsmokers' "Closer," the song was uploaded to YouTube on Boyce Avenue's official account. So far, the video has managed to rack up over 1.7 million views in under 24 hours.
The video description reads,
We recently traveled to Los Angeles to film a couple videos with our good friend Sarah Hyland. She is an amazing actress and has a beautiful voice. We hope you all enjoy our collaboration of Closer by The Chainsmokers ft. Halsey.
Yeah, it's good... It's DAMN good. Your eardrums will agree.
The 4-minute cover begins with Sarah Hyland and Boyce Avenue sitting on stools surrounded by brick, concrete and musical instruments.
Lead vocalist Alejandro Manzano begins singing before Hyland jumps in to bless your ears like they've never been blessed before.
Do you remember the first time you heard the original? It's just that hair-raising. Then again, Sarah's rendition might be even more hair-raising! Sorry, Chainsmokers, but that's revenge for the time you guys dissed Lady Gaga.
Citations: Watch 'Modern Family' Star Sarah Hyland Cover The Chainsmokers' 'Closer' With Boyce Avenue (Billboard)