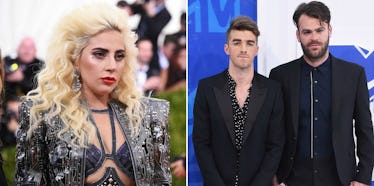 Lady Gaga Savagely Owned The Chainsmokers After 'Perfect Illusion' Diss
REX/Shutterstock
Rappers aren't the only artists allowed to diss each other. Who knew?
Things seem to be heating up (or finally cooling off) between Lady Gaga and The Chainsmokers.
Their beef started after one half of The Chainsmokers had some not-so-nice things to say about Lady Gaga's lead single off of her new Joanne album.
Alex Pall, who belongs to the EDM duo The Chainsmokers, sat down for an interview with Rolling Stone and ticked off just about every one of Gaga's loyal "monsters" after saying that "Perfect Illusion" really "sucks."
Soon after Pall's comments, his bandmate Andrew Taggart jumped in to say, "She's a great artist -- like, Jeff Koons made a sculpture of her."
Sorry, Andrew. I'm afraid the damage has already been done, my friend.
So, what the hell was Pall thinking? I'm not too sure. I mean, did he think Lady Gaga wasn't going to hear about his unwanted opinion about her latest single? Because if he did, he was wrong. Very wrong.
Lady Gaga took to Twitter to address the diss in a single tweet.
Who said Lady Gaga can't reply by plugging her entire album?! She does what she wants, 'smokers.
The Chainsmokers had the nerve to respond to Gaga's tweet...
Ah, playing it safe, I see. The good ole "haha" followed by "respect" and the hands-up emoji. If there's any way to get yourself out of a sticky situation with someone as untouchable as Lady Gaga, it's that way.
Did you really think you stood a chance against the next halftime performer at the Super Bowl?!
STILL, they were NOT let off the hook. I think they forgot about her "monsters."
They made The Chainsmokers pay the price that comes with disrespecting Gaga.
Gaga's fans don't forget.
Their outrage is what prompted the creation of this hashtag: #GagaEndedTheChainsmokersParty
The "monsters" have arrived.
This is probably the best tweet, though.
BURN. BURN. BURN... Lady Gaga: 1, Chainsmokers: 0
We all learned a very valuable less here.
Regardless of the fact that we're all entitled to our own opinions, it's probably not a smart idea to publicly state that someone's song "sucks," especially if that certain someone is Lady freakin' Gaga.
As the wise DJ Khaled would say, "congratulations, you played yourself."