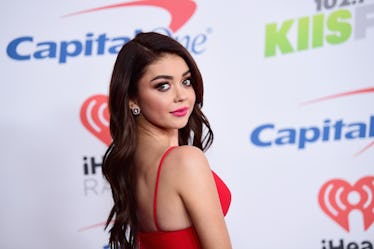 Sarah Hyland Got Candid About Why Her Relationship With Wells Adams Works So Well
Emma McIntyre/Getty Images Entertainment/Getty Images
Sarah Hyland and Wells Adams splattered onto the scene (and our social media feeds) so quickly we didn't even have time to pore over every last detail of posted photos to figure it out ourselves. They don't flaunt their new love in a suspicious way, but rather in a fun, romantic way. They seem like a couple that is genuinely really into each other. Sarah Hyland's quotes about Wells Adams definitely back that up.
The two are a relatively new couple, but obviously head-over-heels for each other. Hyland recently made an appearance on the red carpet for 102.7 KIIS FM's Jingle Ball 2017, where she gushed to Entertainment Tonight about her new beau.
While talking about the unbelievable birthday week Wells treated her to (don't worry, details on that below) she said while smiling,
He's the greatest.
It was a little disturbing to me that she cringed at her and Wells being referred to as "couple goals." She said, "The whole relationship goals thing, I feel like that is said about a lot of people, a lot of different relationships."
OK, YES BUT THAT DOESN'T MEAN YOU AND WELLS DON'T QUALIFY. I'll have to think of new terminology to refer to Sarah and Wells — Team dreams? Love ideals? Star powers? PLEASE LET ME KNOW IF YOU LIKE ANY OF THESE BETTER, SARAH.
Although she may not use "couple goals" to describe her own relationship, Hyland had some other choice words. When asked why they get along so well, she simply said,
We're the same person with different genitalia.
I did not expect this to come out of her mouth, and I don't think the woman who interviewed her did, either.
As always, Sarah Hyland never fails to make us laugh. Adams seems to make her very happy, and is shaping up to be the best boyfriend ever.
The Modern Family actress turned 27 on Nov. 24. Her boyfriend didn't surprise her with breakfast in bed or a nice dinner out — Adams treated Hyland to an entire week of Bachelor-esque birthday activities. The agenda included:
A helicopter ride (complete with sandwiches that Adams carried in a special sandwich fanny pack)
Dinner at Disneyland's Club 33, a super-exclusive and members-only restaurant
Enjoying a Laker's game, courtside
Overall gush-worthy activities
Hyland documented most of the fun on Instagram, and easily made us all jealous.
As far as her favorite part, Hyland was definitely torn. I know when I get taken out on week-long birthday excursions that include tons of fancy and exclusive activities, I always have a hard time choosing my favorite part, too. I guess that's why people consider me and Sarah Hyland so similar. *Quietly sobs.*
In all seriousness, it looked like she had an unforgettable birthday with a great boyfriend. She told Entertainment Tonight,
Going in a helicopter, I was like, 'What!?' [Disney's] Club 33 was probably my favorite because... I like [to] dress up really fancy and he was wearing a suit and looked dashing.
The pair seem really happy together. Hyland credits this to the fact that Adams is the "only person" who finds her funny. She told People on the Jingle Ball red carpet,
I don't know. I'm just… I think I'm hysterical when I'm really not. I'll be like, 'This is an amazing bit that I have to put on my Instagram Story.' But the thing about Instagram Story is you don't get responses, so I don't know if people actually like them or not! ... I think the only person who actually somewhat finds me funny is my boyfriend. Thank God!
If you've ever had the pleasure of watching Hyland's Instagram story, you know she's super funny and spontaneous — definitely worth a watch (bonus: she posts frequently).
It's great to see Sarah Hyland and Wells Adams in such a happy place in their lives. They're definitely the ultimate couple goals. I SAID IT, DON'T HATE ME.
Check out the entire Gen Why series and other videos on Facebook and the Bustle app across Apple TV, Roku, and Amazon Fire TV.