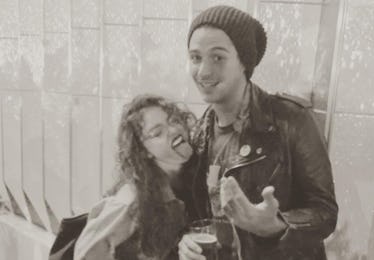 Sarah Hyland & Wells Adams Posted The Cutest Photos & Here's What Danielle M. Thinks
One of the most random couples in the world has quickly become one of the cutest. In case you didn't hear, Sarah Hyland and Wells Adams are dating. Yup, the Modern Family star and the former Bachelorette contestant have all but confirmed their relationship after doing a Stranger Things Halloween couples costume and posting a handful of pics of each other on Instagram. And now, Danielle Maltby, who was rumored to be dating Adams at one point, has put in her two cents about the relationship. Danielle M.'s reaction to Wells Adams and Sarah Hyland dating proves there's no bad blood between her and Adams. In fact, she says she "ships" him and Hyland!
Hyland and Adams both posted adorable photos of each other on Instagram this weekend. Hyland captioned her picture of her and Wells goofing off and looking hella cute, "He puts up with me." Wells posted a more ~romantic~ shot of them hugging and smiling at each other captioned, "Back lit AF." One fan commented on Hyland's photo spewing some hate at the new couple, and Danielle M. clapped back at them in a comment that proved she more than approves of their romance. She said,
Are you kidding me? I ship this couple SO hard! I've never seen Wells so giddy and happy! Try spreading some love instead of knocking down one of the cutest and most genuine coupling I've seen in a long time.
Hyland and Adams first hinted their relationship was a thing on Halloween when they posted photos of their Stranger Things costumes.
They both posted the same photo with the captions, "Demogorgons. They chill as f*ck. #beefsquashed #strangerthings #happyhalloween," and "11 hangin' out with a 10 #strangerthings," respectively. Hyland dressed as Dustin and Adams dressed as Eleven, and it was amazing.
Hyland then posted a photo that made the relationship rumors even stronger, seeing as they look hella in love in it.
Their Stranger Things couples costume doesn't really make any sense because Mike and Eleven are dating, not Dustin and Eleven, but like, it's fine. Whatever. I'll allow this narrative error.
Hyland posted another photo before this lovey dovey one that was captioned, "#strangerthings have happened #happyhalloween."
I'm going to go ahead and take this as them saying, "Yeah, our relationship is super random, but stranger things have happened!!" However these two got together, their friends clearly support them, and they look super smitten.
Although neither Hyland nor Adams has confirmed their relationship officially, it looks like their romance might have started on Twitter, of all places. Hyland is a big fan of the Bachelor shows, which includes Bachelor In Paradise. Back in August, she was live-tweeting an episode of Bachelor In Paradise when she tweeted something about Adams that might have gotten this whole romance moving. She said,
OH MY GOD @WellsAdams IS THE FRIKKIN BARTENDER?! Best. Season. Ever. #BachelorInParadise
Adams quoted the tweet and said,
Taking applications for #BIP5 bar backs now. Please send references.. Preferably from Phil Dunphy. I'm kidding the job is yours @Sarah_Hyland
WOAH, CAN YA FEEL THAT SPARK? These two obviously could! While the two alleged lovebirds haven't confirmed their relationship, they have hinted at it for a bit.
In a recent episode of Adams' podcast with Brandi Cyrus (Miley Cyrus' older sister), Your Favorite Things Podcast With Wells And Brandi, Adams revealed he "likes" a girl and while they haven't ~defined the relationship~, he's not seeing anyone else. In the Oct. 14 episode (titled "Wells Likes A Girl," no less), he said, "I like this person." Wow, so much info there, Adams! Thanks! Cyrus added that Adams recently flew out to L.A. to spend time with this mystery girl, and since Hyland lives in L.A., it's safe to assume that's who he was visiting. Between those Halloween costumes, the new couple-y photos they posted this weekend, and Adams' "Wells Likes A Girl" episode of his podcast, I'd say it's safe to assume he and Hyland are for sure dating.