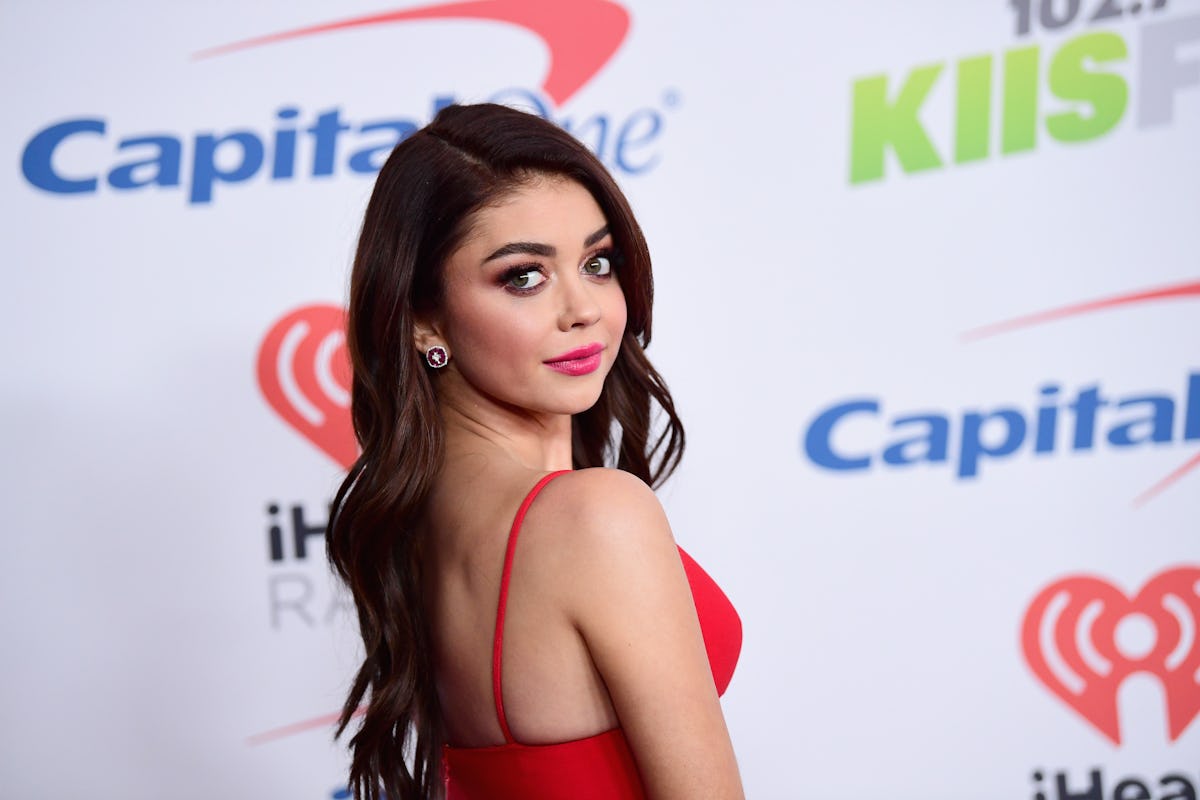 These Pics Of Sarah Hyland & Wells Adams' First Christmas Tree Are #RelationshipGoals
Emma McIntyre/Getty Images Entertainment/Getty Images
There's nothing like the holiday season that gives every single heart out there relationship FOMO. And Sarah Hyland and her new boyfriend are no exception to that rule. The couple just shared their first Christmas tree decorating experience on Instagram, and the photos of Sarah Hyland and Wells Adams' Christmas tree are seriously too perfect for words.
If you're a person in a relationship, getting a Christmas tree with your significant other is almost like a stepping stone, and an important one at that. So when Sarah Hyland and her new boyfriend Wells Adams shared their Christmas tree decorating experience, naturally fans freaked out. And what's best? They themed their tree as a "foodie" one, and it's seriously so adorable.
The two, who were only rumored to have started dating around Halloween of this year, have clearly taken their relationship to a completely new level with this holiday season. On Dec. 9, the actress decided to document their first Christmas tree shopping and decorating experience for the all the world to see. The two decided to make their tree "foodie" themed and used different food and condiment ornaments to decorate.
And the pictures of the pair that Hyland posted to her Instagram and Insta story are so adorable that it hurts.
The cute couple shared their experiences on Instagram, where Hyland captioned her picture with the caption "First Christmas tree with this one 🎄 ❤️."
And the TV star made use of her Instagram stories by posting the two getting their tree and deciding how to dress it up.
It looks like at first they considered a Stranger Things theme, which maybe was paying homage to their first official outing together as a couple during Halloween. You might remember when the Modern Family star shared an Instagram post of the two celebrating the holiday together. (They themed their costumes as characters from Stranger Things, with Hyland dressing as Dustin and Wells going as Eleven aka Jane.)
And their tree got in on the dress up game for a minute too:
But ultimately, the couple decided that a "foodie" theme was the best bet.
And clearly hilarious, at least judging by the looks on their faces here. Nothing like a pun to solidify a relationship.
The actress looked seriously cozy for the decorating process.
One picture showed her wearing knee high socks and surrounding herself with food-themed ornaments (note the chili peppers):
And they even topped their tree off with some "his and hers" decorations.
The "hers" being a champagne or wine glass and "his" being a tall glass of beer.
So from the looks of it, these two have been moving fast since we've first heard confirmation that Adams and Hyland being an item.
The pair reportedly met via social media after Adams' stint on Bachelor in Paradise — you may remember Wells Adams if you're an avid The Bachelor and The Bachelorette watcher. He appeared on Season 11 of The Bachelorette, and then later on Bachelor in Paradise. But he and Hyland didn't confirm that they are, in fact, dating until this past Halloween — but the pictures that they've shared since their relationship confirmation have made fans envious.
And their latest Christmas outing as a pair is no exception. I mean, I don't think there's anything cuter than alcohol-themed his and hers ornaments? It's seriously too adorable to handle.
So while Sarah Hyland and her boyfriend are living their best holiday life together, the rest of the world will watch in envy of what we can only call #RelationshipGoals. I personally don't think it gets better than a foodie-themed Christmas tree. If you ask me, Hyland and Adams are officially dubbed the holiday couple of the season.