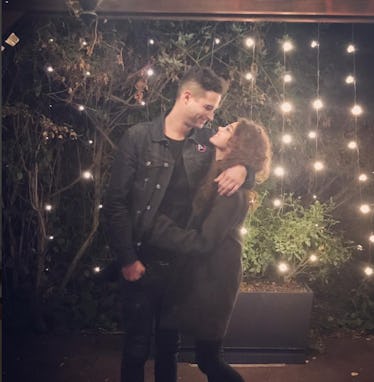 Wells Adams Reveals How He Met Sarah Hyland & It's Honestly So Relatable
Wells Adams/Instagram
It's a classic love story. Radio-DJ boy goes on a national television show to try to destroy 30 other men for the heart of one woman and fails. Celebrity actress watches the show and low-key becomes obsessed with boy. Boy and girl connect on social media through playful banter, and then reveal themselves as a couple by dressing up as characters from Stranger Things for Halloween. The rest, as they say, is history. If you were wondering how Wells Adams and Sarah Hyland met, it's about as straightforward as any love story comes, and we think it's awesome.
The Bachelorette/Paradise Island alum and Modern Family star took their relationship public this Halloween, but up until then, they had played it pretty cool. Adams seemed to catch Hyland's eye as she watched him from afar on his hit ABC shows, noting his various book references on Twitter and tweeting her adoration at him.
She wrote things like,
Ugh! @WellsAdams making a Lord of the Flies reference on men tell all??? #knewhewasthebestfromthestart #menwhoreadarehot
And,
Also @WellsAdams compared Chad to Voldemort. #potterheadsarethebest
Oh yeah, also,
OH MY GOD @WellsAdams IS THE FRIKKIN BARTENDER?! Best. Season. Ever. #BachelorInParadise
Finally, finally, finally, Adams picked up on her tags, and started to flirt back.
He first tagged her when he was "taking applications for Bachelor In Paradise bar backs," because that's a slick pickup line...
Still, Hyland took the bait. Adams wrote,
Taking applications for #BIP5 bar backs now. Please send references..Preferably from Phil Dunphy. I'm kidding the job is yours @Sarah_Hyland...
And boy, oh boy, was Hyland in. She cheekily responded,
I'll start working on my garnishing skills. Oh and I require 35% of your tips.... or free dogs.
Stop. He added a GIF of himself. I hate it, but I also love it.
While visiting the Morning Breath show on Wednesday, Nov. 8, Adams admitted he was shocked to find a connection with someone on the social media app.
He said, "The internet — it's amazing... I'm amazed how smart the internet is. Because I just assume everyone on Twitter is an idiot, and then I'm like, 'Wow!'"
I mean, if that sentence isn't the modern day version of a Shakespearean sonnet, then I don't know what is.
More than anything, the pair seems to be enjoying each another's company and goofing around like any budding romance might.
Their joint Stranger Things uniform garnered lots of love on social media, with Adams dressing up as famous character, Eleven, and rocking a blonde wig and pink dress. Hyland looked adorable as Dustin.
Apparently, they already have plans for their costumes next year. Adams says,
We did talk about next year's one, and we've got a really good [idea]. It's definitely in the vein of two things that we love dearly, and gender-bending happens again.
If next Halloween feels like too long of a wait and you're looking for more details on this relationship now, Adams says you're in the right place by following his social media handles.
He said, "There's nothing really to say. Like, if you want to know — to be fair, if you want to know anything, just look on my social media."
Oh we are, Wells. We are.
While most of his relationship pics are goofy Halloween shots for now, he did give us this one glowing image from I don't know what... but damn, do they look nice in it.
He captioned the photo "Back lit AF." But I caption it, "Hey, nice leather ensembles and also faces. You guys are attractive, thank you, that is all."
Check out the entire Gen Why series and other videos on Facebook and the Bustle app across Apple TV, Roku, and Amazon Fire TV.