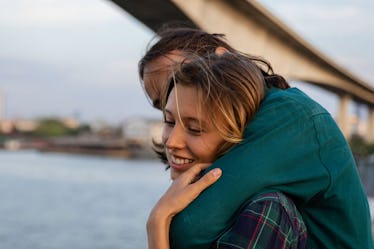 5 Body Language Clues Your SO Is Ready For Commitment, If They Haven't Verbalized It Yet
In the beginning stages of a relationship, you and your partner may find yourselves struggling a bit to feel completely comfortable talking about how you feel and what you want. You may be looking for different levels of commitment from your relationship, but you're not comfortable enough with each other to have ~the talk~ just yet. So, what do you do? Well, luckily, you can try to spot the body language signs your partner is ready for commitment if they have yet to verbalize what exactly it is they want, but you really want to know where you stand.
The thing about commitment is that people define it in different ways. For some, commitment could be labeling the relationship with an anniversary date and making it social media official. To others, it could mean simply telling each other how you feel, or something else entirely. But it can get tricky. Because commitment is such a gray area, sitting down with your partner and figuring out how you both define it can be incredibly important. But if you're not ready to have that conversation just yet, worry not. These body language clues can give you somewhat of an indication, without you having to have ~the talk~ right now. However, do try not to put it off for too long. Being on the same page is important, and having an honest conversation can be the best way to get there.