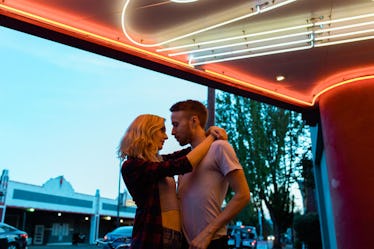 If Your Partner Says These 4 Things, Experts Say They Might Be Scared Of Commitment
Commitment is a word that holds so much weight, and yet, many people define it differently. In college, I thought commitment was going on weekly dates with someone and not getting ghosted. Three years out of college, and needless to say I view committed relationships from a very different perspective. That's one of the reasons it's so important not to assume that you and your partner are on the same page, especially if you notice your partner says things that suggest they might be scared of commitment.
Depending on where you or your partner are in life, varying degrees of comfort with commitment is totally normal. However, the only way to know exactly where they stand is to talk about it. "Ideally, you want to have conversations about what each of you wants in a relationship early on so you can gauge if you're on the same page with each other," sex and intimacy coach Irene Fehr tells Elite Daily.
If you're in your first year of undergrad, having a partner who's afraid of commitment will likely be much more manageable than if you're both settled in your careers and you want to start a family ASAP, for instance. The thing is, it's all too easy to stay in relationships with people hoping they will eventually be ready, only to wind up four years down the line and still confused about what they want. If your SO drops any of these lines (or something similar), then they might be scared to take your relationship to the next level.