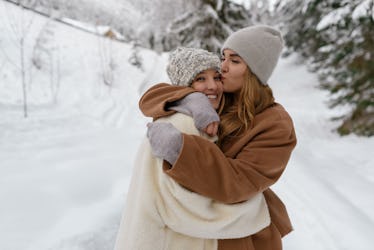 5 Signs The Person You're Dating Is Ready To Make A Serious Commitment
When you're newly dating someone, you're most likely spending a good amount of your intellectual and emotional energy learning about them, establishing a relationship dynamic, and figuring out if the two of you could be a good match. While your heart might be all about how their cute smile gives you butterflies, your brain might be able to help keep your eyes on the prize. If you're looking for a relationship and you feel like pursuing one with this person, it's a good idea to stop and ask yourself is if he or she ready to commit to a relationship or not. Aside from outright asking the person you're dating if they want to do the whole exclusive thing with you, you might be able to tell from these five signs.
Relationships can take awhile to develop, and you might not instantly have perfect trust and clear communication with someone. So if you've been dating this person for a few weeks or months and aren't sure how they're feeling — that's totally fine. You might not know what you want from this relationship, either. If you're both having fun and getting to know each other, proceed! But if you're ready to DTR and not sure how your partner feels, these five behaviors could be a good indication that they're ready for a bigger commitment.