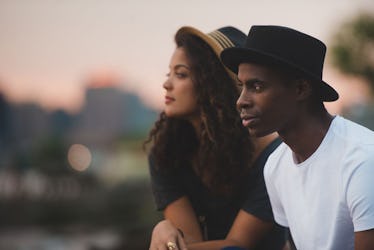 3 Signs Your Partner Thinks Their Ex Was "The One," Despite Dating You
Real talk: One of the most difficult things you're forced to grapple with in a relationship is the fact that your partner has dated other people (unless, of course, it's your partner's first relationship). Even more uncomfortable is the fact that they may have loved other people before falling in love with you. What if you get the sense that your partner still thinks their ex was "the one"? That's a completely different brutal ballgame. No one wants to feel like they're competing with the ghost of relationships past.
It's totally normal to be reminded of an ex from time to time. Maybe a song comes on Pandora and it triggers a memory, or a scent reminds you of them, or you drive by a restaurant that was meaningful to your relationship. It would be unrealistic to expect your current partner to never think about a former flame. Still, there's a difference between an occasional, fleeting reminder of the ex and feeling completely hung up on them. While quickly reminiscing is often triggered by a specific thing, being hung up on someone means having all-consuming thoughts about them that don't even need to be triggered by anything nostalgic.
Our partners' past is probably not something most of us like to think about, but we typically don't dwell because we trust that what we have with them now must be entirely unique from what they had before. So naturally, it's incredibly difficult to move forward in a relationship with someone if you suspect that they believe their ex was meant to be their forever person. After all, how are you supposed to have your happily ever after if your SO is still fantasizing about theirs with someone else? There's good news: experts say there are certain signs you can look for that might indicate your partner is still hung up on their ex. Here are some of the most prominent red flags to keep an eye on, if you believe that your current love might still think that their former love is "the one."