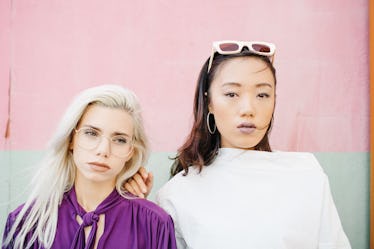 4 Relationship Fights That Might Mean A Breakup Is Coming, According To An Expert
In any given relationship, there is a range of conflicts that a couple can experience. There are those silly passing arguments over where to have dinner that night or who was supposed to DVR Game of Thrones. Then there are those middle-of-the-road fights that probably last a bit longer than they should, but you ultimately learn something from. And finally, there are those more explosive, ongoing ones — the fights that might mean a breakup is coming.
According to a 2016 study from Wakefield Research and LearnVest, the most common topic that causes tension in the average relationship is money, with 68 percent of couples citing finances as a source of ongoing problems. In fact, a whopping one in four participants admitted to having broken up with a partner due to financial issues. Clearly, money can make things complicated, but it's not the only thing that causes problems. Jealousy, chores, and quality time can all trigger arguments as well. Fortunately, the vast majority of these ultra-common disagreements are totally possible to resolve, as long as both people are able to have empathy for their partner and find a compromise.
However, fighting about certain things can potentially hint at a possible breakup, which is why it's so critical to be aware of those subjects. Because if you can identify the fact that you and bae have been having these particular fights, you can do something about it before a split becomes inevitable. Here are some relationship fights that could raise some red flags, according to Dr. Gary Brown, a prominent couples therapist in Los Angeles.