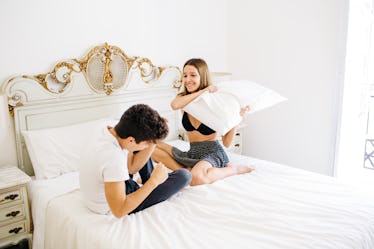 These 3 Fights Are Super Common, So Don't Worry If You & Your Partner Have Them
Growing up, I feel like the adults in my life reminded me that happy friendships, couples, and families all fought. Which, in retrospect, is an odd lesson to drill into children's minds. But it's totally true: All relationships can, and should, involve the occasional hiccup — otherwise it probably means that one of you is a cyborg, and no one wants that. Assuming you and your partner are not, in fact, cyborgs, you've probably gotten into one (or all) of the most common fights couples have.
If you're guessing that they revolve around issues with your finances, daily responsibilities, and sex lives, ding ding ding! You are correct. I feel like the fights my friends and I most frequently vent to one another about (generally over brunch cocktails, à la the women of Sex and the City) often revolved around those subjects, too. So, definitely don't worry if you two bicker about who should be paying for those concert tickets this summer, which family to spend the holidays with, and whether you two are adventurous enough in the boudoir (BTW, if you're hoping to spice that up, just give some of these sex moves a try!). It's only once you two start having that same argument over and over again that you should get a bit concerned, according to licensed psychotherapist, Denise Limongello, LMSW.
"Couples should, in fact, worry if they're having the same fights over and over, again," says Limongello. "Redundant fights are a key indicator of underlying issues and dis-satisfaction within the relationship. If you find yourself consistently bickering with your partner over petty issues, you may want to examine whether or not the two of you are on the same page on more important issues of the life you're building together."
If you two aren't bickering on the daily, though, there's no need to fuss about getting into one of these totally routine arguments. Here are the three most common fights that couples get into. So yes, you guys are totally normal! And no, you're not alone.