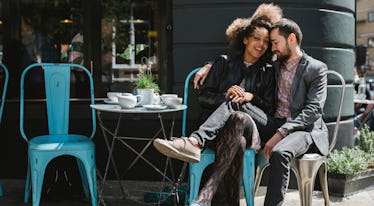 How To Know If You Should Keep Splitting The Bill In A Long-Term Relationship
Paying at the end of dates (especially in the beginning of the "courtship") is always a touchy subject, with varied opinions on how to handle it. Some people believe the person who invites the other out should pay; some think splitting is the way to go; and sometimes, people dictate who pays based on how the date is going. But what happens when you've been dating for years? Paying for dates in a long-term relationship is definitely something you should figure out with your partner, and see what works best for you both. And as your finances may fluctuate, your regular go-to paying practice may change, too.
To get down to the best methods for paying for dates in a relationship, I spoke with matchmaker and CEO of Exclusive Matchmaking Susan Trombetti and founder of Crated with Love Tyler Turk. Here's what you need to know to navigate paying, avoid awkwardness, and get directly to the romance.
Have a conversation about what you're comfortable with.
If you're in a relationship with someone who makes significantly more or less money than you, you may want to discuss how to work out paying for dates in a way that makes financial sense for both of you.
"If one person is in need of some financial support... the best thing to do is to have an open and honest conversation about [it]," Turk tells Elite Daily. "It may seem awkward at first, but it will help your relationship in the long run. When it doubt, talk it out."
In a long-term partnership, if one person makes less money and therefore pays less for dates, or less often than the other, as long as that person "does what they can do financially, it is all fine," Trombetti tells Elite Daily.
Trombetti says that in a relationship, both people should contribute, even if on the earlier dates it didn't start that way. She also doesn't think splitting the bill – or "going Dutch" – is the best route to take. "It's practical but doesn't lend to the romance," Trombetti says.
Depending on how serious you are, "my" money may become "our" money.
Some people do prefer "going Dutch" though – at least in their bank accounts. After some time in a long-term relationship, your finances may no longer be separate, which can factor into how you view paying for checks.
"If you're at the point in your relationship where it's 'our' money, then splitting the bill is probably irrelevant and cumbersome," Turk says.
At that point, if you have a shared checking account and your finances are all pooled in the same place, you're technically splitting the bill anyway.
Do what feels natural for the two of you.
For some couples, just doing what feels right could work best. Turk attests that this works for him and his wife – they developed an "unwritten code" in which they'd remember who paid for what, and take turns paying.
"Whenever she picked something up, she'd pay, whenever I picked something up, I paid," Turk says. "If we were out to dinner, we typically kept an internal recollection, and just switched off. It was an easy transition once we got serious."
At the end of the day, what works best for you as a couple is up to you two. Be sure you talk out your financial concerns with your partner, so you don't harbor any ill-will regarding money between you in the long-run.
Check out the entire Gen Why series and other videos on Facebook and the Bustle app across Apple TV, Roku, and Amazon Fire TV.
Check out the "Best of Elite Daily" stream in the Bustle App for more stories just like this!